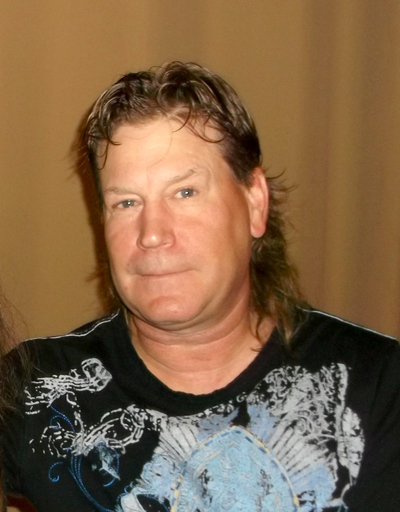 SYMOWONIUK
Michael Sant
It is with shock, heartbreak and great sadness that the family of Michael Sant Symowoniuk announce his passing on Friday morning May 31, 2019 while working away in Mayerthorpe, AB at age 56 years.
Mike grew up in Rosedale and was the eldest son of Walter and Patricia Symowoniuk and brother to John and Taras Symowoniuk.
Right out of High School Mike started working with Alberta Transportation as a surveyor and started his 38 year career in Road Construction. He was respected and sought after within the industry as a Senior Soils Technician and WSP Engineering (EXH & Genivar) from Red Deer were lucky to have his dedication, loyalty and expertise for 20 years ... his nickname was "The Cleaner". He respected his Road Family and we know there will be a void for all with his loss. Many of the crew enjoyed his BBQ's and cooking on the road …. he loved cooking and his kitchenettes. During his winter months he had the opportunity to work alongside his cousin Rocky in Alberta and BC, with the crew from Rock Solid Construction. The bond with Rocky and Vanda will never be broken.
Mike convinced that "East Coulee Girl", Tracy Samel, to date him and on August 3, 1985 they were married. They created an amazing life together and Tracy was the love of his life. Many good times, and of course rough patches along the way, but they always seemed to pull through. They did not have any children of their own but guided and watched many nieces, nephews and their friends kids grow up over the years….this Uncle and Auntie were loved by many, he would always say when visiting the kidlets…can't we keep them or take them home with us?
Mike had many loves in life. He was an amazing cook, could sing, collected coins, he bowled in a league, played broomball, hockey at the rink and ball with the Wayne Regulators, he enjoyed shooting billiards and occasionally golfed. In the winter his passion was sledding with the Rosedale Gang - Mizer, Snappy, Shakey Joe, Rosco, Porkie, Dobbie and their boys. He was a Rangers fan and got to take in a game in February. A highlight for Mike was when he and cousin Rocky flew to Tampa Bay, Fl to take in Superbowl XXV. Their 49'ers never made it to the "Big Show" that year but the experience was amazing! A love for travel took Mike and Tracy to many destinations over the years, Mexico, New Orleans, Tampa Florida, Vegas, Hawaii and Montana. Of course having beers with friends was pretty high up there … lol.
He was very proud of his vehicles over the years ... he loved fast cars ... a Firebird, a Red Camaro Z28 and finally his baby in the garage...a navy 1981 Camaro Z28.
The Samel and Symowoniuk family built a bar in Rosedale called Gedo's (Outlaws Saloon). The crew was all Rosedale boys....Mike learned so much from Boyd, Tonto, Reb and Randy. We know for certain he is enjoying a Rainier with a few of these boys in Heaven today! The many great times in the old bar and the new place will last a lifetime. Mike had an amazing sense of humour and always had a nickname for friends, family and co-workers. He was great at music trivia. He could impersonate friends, family and even hollywood stars.
Most who knew Mike well know he was very opinionated. At times relationships were tested as a Love-Hate, but those who knew him best, knew he had a heart of gold and would be there for you at any given time.
Mike leaves to mourn his wife Tracy of 34 years (yes they were married at age 12... lol). His mommy Patricia, brothers John (Tracey & Kyle) and Taras (Brandon, Janet, Cassie & Cody), father-in-law Willie Samel Sr. and brothers-in-law Willie and Mike and families, Auntie Shirley Los and her boys, our Los Boys - Rocky and Vanda, Rod and Jacqueline, Rick and Nellie-Ann, Jason and families, extended family Cindy and Terry Zambo, the Gallagher family - Eileen, Terri and Dave, Marcie and Larry and families. He was much loved by aunts, uncles, cousins, nieces, nephews, co-workers and lifelong friends.
He was predeceased by his Grandmas, Grandpas Mike and Mike, Uncle John, father Walter Symowoniuk, mother-in-law Georgie Samel, brother-in-law Scott Samel, sister-in-law Teri Ludwig, Uncle Louie (Bob Gallagher), and many dear friends over the years.
A Celebration of Life will be held at the Drumheller Stampede Barn on Saturday, June 15 at 2:00 p.m.
Courtney-Winters Funeral Home in care of arrangements.
In lieu of flowers, if friends so desire, memorial donations may be made in Mike's memory to the
Symowoniuk Legacy Park.
T. Symowoniuk
Account #5036868
Transit #03649
Royal Bank,
Box 2580, Drumheller, AB
T0J 0Y0
or etransfer to:
Tsymowoniuk@hotmail.com
Cindyschuiling18@gmail.com
Dltudor@telus.net