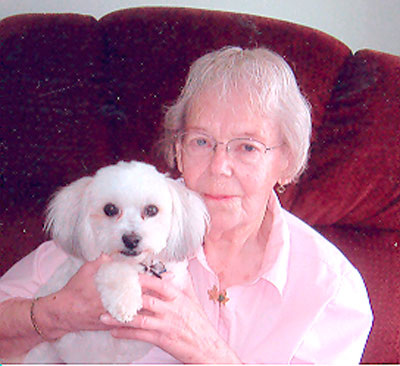 POTTER
Doris Inez
February 23, 1928 - June 28, 2018
Doris passed away peacefully with her family by her side on June 28, 2018 at the age of 90 in the Drumheller Health Centre. Doris was born in Rumsey, February 23, 1928. She married Ivor Potter June 29, 1947 and began working beside him on the family farm. She had her three sons on the farm and later moved into Drumheller where Ivor took work at the Co-op. Doris was for the most part a stay at home mom, but did venture out to work at
Aldors Fashions, and Mighty Mart for a period of time. One of Doris'
greatest attributes was her willingness to always lend a helping hand, whether it was to her family, a friend or a neighbor. She also loved chatting
with everyone she met! During her last few years, she became an avid Flames and Blue Jays fan watching every game on T.V. Doris was
predeceased by the love of her life, Ivor Kenneth Potter in 1974. She leaves behind her three sons; Bryan (Kathy), Barry (Susan), Blair (Elizabeth). She also leaves behind her beautiful grandchildren and great grandchildren; Ivor (Jill); Bailey, Sydney, Reece, Sabrina; Jordyn, Nicholas, Emily, Amanda & Steven (Mariane), Jeffrey (Romi); Paisley & Ellie, Jennifer (Logan), Jared, she will be dearly missed by her faithful companion Ryder. In lieu of
flowers donations may be made to the Drumheller Area Health Foundation (Palliative Care). Our family wishes to extend our gratitude and appreciation for the compassionate care given to Doris by Dr. Maseka, Nurses and Staff of the Drumheller Hospital. A very special thank you to Caitlyn Morenez and Candace Leffler, thank you for being with us until the end. Words cannot express how deeply touched we are. Thanks to some of the residents at Keystone Towers who watched over Mom the last few years, your kindness was appreciated. We would also like to thank our family and friends for the visits and kind gestures. At Mom's request, there will be no funeral service. A private family service will take place at a later date. Courtney-Winter's Funeral Homes were in care of the arrangements.