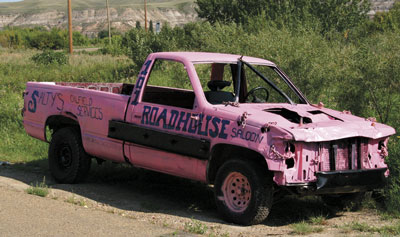 The show will go on as the Drumheller Demolition Derby has selected this Saturday to make up the event.
    This year's Demolition Derby was cancelled on August 15, the day it was supposed to begin because of a deluge of rain that made the track too muddy to battle. Organizers have decided this Saturday the 26th annual derby will be back on track for a one-day event. Already the word is spreading, and organizers say they expect about 40 entries to the event.
    "We can't miss a year. We have local support with drivers that have put in a lot of effort, and we have a lot of support from local businesses which sponsored these cars to run, so it is only fair to them to make an attempt," said Larry Duxbury of the Drumheller Stampede and Ag Society. "You can't beat Mother Nature, but the forecast is supposed to be good."
    He said the organizing of a make up date was as simple as picking a date. All the groundwork has already been completed.
    "Kerry Mclellan pretty much had everything set up. He went through the work to get it organized. Everything is already paid for, so it doesn't make any sense to not make it happen," said Duxbury.
    He says along with the dedicated local derby driver's paddock, there is confirmation from drivers from out of town. The only other competing event on the weekend is in Slave Lake, so the bulk of the draw will come from southern Alberta. Duxbury expects he will have the traditional V8 demo cars as well as a mini (four cylinders) demo, a powder puff event and a truck demo.
    Gates open at 9 a.m. for participants, and the event starts at 2 p.m.
    For tech questions, contact Devon Groenveld at 403-321-0180, or for more information contact Duxbury at 403-820-0675.