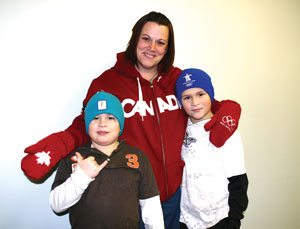 While a smile is never far off her face, some may have noticed Melanie Mazereeuw beaming even more so recently since she learned she would be an Olympic Torch Bearer.
    Mazereeuw will be carrying the torch on Sunday, January 17 through Bow Island on the stretch just days after the Drumheller Torch Relay Celebration.
    Mazereeuw's consistent entries on the iCoke web site got her foot in the door. It was her community spirit and involvement that put her over the top.
    She entered in the area of 40 times to win a spot on the Torch Relay Team. Shortly thereafter she received an e-mail telling her she needed to write an essay.
    "The theme was living active or community spirit," she said.
    She wrote about some of her community involvement. She and a friend participate in the Enerflex Walk MS walk and raise a sizable contribution to the MS Society each year. She has set up a recycling program at the Drumheller Co-op store and offices where she works, and spearheads the Greentree Mall initiative Town of Toys each year, collecting donations for The Salvation Army Christmas Hamper program.
    "It's the small stuff really, but it is community oriented," she said.
    Her inspiration to get involved with the Torch Relay comes from her experience in school when Calgary hosted the Winter Olympic Games in 1988. A girl from her school in Lethbridge was selected as an Olympic Torch Bearer, and she won a spot on a trip to Calgary to take in the part of the games.
    "I got to see three events in one day in '88, and I thought man, what an opportunity. It is a once in a lifetime experience" she said.
    When asked where Mazereeuw would like to run, she selected the Red Deer to Drumheller, the Drumheller to Lethbridge Leg and the Lethbridge to Medicine Hat legs as possibilities. She will be running near Bow Island, which coincidentally is where her husband grew up.
    Her family and extended family are excited to see Mazereeuw run the torch. Her son Braden, 7, says he has his own digital camera ready to take pictures. Her grandmother and great aunt, who just turned 88 have already booked a spot in her parent's van to come up and watch her on the route.
    This no surprise, she says her family has always been proud Canadians, and even have some Olympic blood.
    "My mother's cousin is Toller Cranston, and my family has always been very Olympic oriented and patriotic. My aunt was one of the first women to enlist, so when it comes to things like Olympics, they are big Canada supporters," she says.