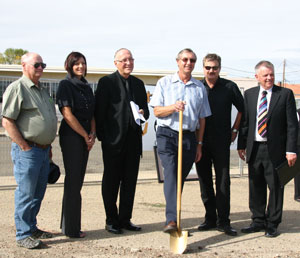 Chinook Credit Union has taken another step in its history in Drumheller and broke ground on its new branch.
The branch, to be located on the site of the former Home Hardware, across from the post office has been in the works for a couple of years. On Friday afternoon, they officially kicked off the project.
"It is very gratifying to get this off the ground. We have been looking forward to this for a very long time," said Tom Mossing, president and CEO of Chinook Credit Union. "Drumheller is a very important part of business. We believe in the future here and are looking forward to doing more business with the folks here."
The branch will be a newly constructed full service facility, complete with ATM service and drive through.
"It includes all of our wealth managements services, which is certainly a core product of what the credit union is offering," said Jim Chisholm, vice president of sales and wealth management."
The project is designed by Ron Boruk Architecture and is being constructed by Shunda Consulting and Construction Management of Red Deer. The price tag for the whole project is in the area of $5 million.
The Credit Union has had a presence in Drumheller since 1968 when Hussar and District Saving opened a branch. Since 1999 they have been in the downtown location, with about 15 local staff.
"Drumheller has had a track record of success," said Mossing.
Mossing said machinery will be on the site in the very near future and are aiming to be open in the fall of 2012.