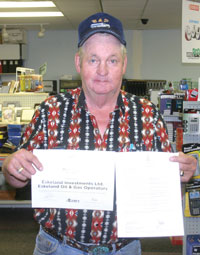 Five Drumheller businesses were recognized on Tuesday, August 5, for being some of the safest businesses in the province in 2007.
The awards were announced by the Alberta government as the Work Safe Alberta 2008 best safety performers. The businesses from Drumheller included McLean Construction Ltd., Dan's Oilfield Service, B & P Services Ltd., 1228569 Alberta Ltd., and Eskeland Oil & Gas Operators.
"Everyone wants to have a safe work place, but it is the years of experience that really give you the ability to read the possibility of danger in every situation," said Ed Eskeland, owner of Eskeland Oil & Gas Operators.
The Occupational Health and Safety (OHS) Council recognized 697 Alberta employers with exceptional records in workplace health and safety in 2007.
"These companies are the cream of the crop when it comes to workplace health and safety," said Hector Goudreau, Minister of Employment and Immigration. "They recognize the priorities of Albertans, which are to get home safe to enjoy life and family and everything else our province offers.