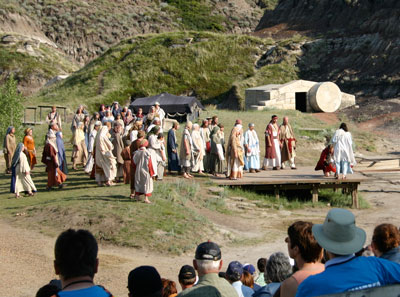 After a stellar season, it is no wonder institutions in the Drumheller valley are being recognized for their  contributions to the tourism industry.
    Travel Alberta announced its list of finalists for the annual Alberta Tourism Awards (ALTO) and The Canadians Badlands Passion Play and the Town of Drumheller were both on the list.
    The Passion Play was nominated in the Alberta Pride Category and the Town of Drumheller was nominated in the Friends of Tourism category.
    "We were pleasantly surprised, we didn't know a thing about this," said president for the Canadian Badlands Passion Play, Wilf Golbeck. "This is the  first I can remember us being nominated."
    The Passion Play won an award from Canada Tourism in 1999 for being Alberta's top cultural attraction. They also won an award from the American Bus Association for being one of the top North American Attractions.
    "A lot of credit goes to the staff and the hundreds of volunteers at the Passion play," said Golbeck.
    He says the Passion Play is coming off one of its best season ever.
    "It is a reflection of Drumheller, everyone is working together. Kudos go to Canadian Badlands who is pulling it all together," Golbeck said.
    The Town of Drumheller's nomination comes from its "Visitor Friendly" project. Economic Development officer Ray Telford explains Drumheller's Economic Development Task Force partnered with the Province of Alberta to develop a "Visitor Friendly" template that could be used in the valley as well as other locations. It was from this the "Tourist in Your Own Town" promotion was developed.
    "The town made this report available to various organizations such as Community Futures Big Country and the Drumheller and District Chamber of Commerce and those organizations followed through on some of the ideas from the template," said Mayor Bryce Nimmo. "Those organizations did a great job and continue to do a great job in the community." The Visitor Friendly template suggested that Drumheller consider using a mainstreet program, encouraging improvements to building frontages, reviewing visitor signage, customer service training and many other visitor friendly ideas."
    The Awards will be presented at the ALTO Awards Gala at Fairmont Banff Springs on October 25. This year, Travel Alberta received 7 per cent more nominations compared to 2008.
    Also nominated along side the Passion Play in the Alberta Pride Category is GPS Tour Guide Inc. – "GyPSy Guide,"  and Banff Metis Crossing, Smoky Lake.
    Drumheller is in the company of  the Jasper Discovery Trail Interpretive Project and the The Whitecourt Trailblazers in the Friends of Tourism Category.