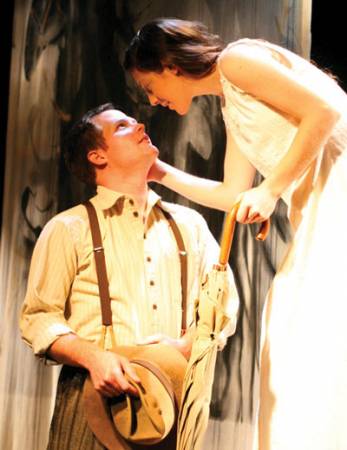 As an organization that is supportive of Canadian artists and emerging talent, Rosebud Theatre is proud to produce a Canadian play written by Calgary playwright Stephen Massicotte.
    Playing until October 24, Mary's Wedding is a beautiful story of love and courage that has received rave reviews from both the Calgary Sun and CBC radio.
     "I picked this play because it is about love," says Artistic Director, Morris Ertman. "There is no more significant human interaction than love. And Stephen's play sets it against a backdrop of war that raises the stakes to the point where the drama of it all is potent. The piece is beautifully constructed within a dream on the eve of Mary's Wedding, and it paints a picture of first love that I think is recognizable to all of us."
    "First love is an adventure! It's full of surprise and delight and hope and more. The play is a wonderful visceral experience on the page, which means that it becomes absolutely electric on stage! There's nothing better than a great love story lived out by great young actors!"
    A Calgary based writer and actor, Stephen Massicotte grew up in Thunder Bay, went to college in Sudbury and then to the University of Calgary. He has written several autobiographical pieces that have won awards at various Fringe festivals, but Mary's Wedding is his first full-length fictional play.
    He found that writing Mary's Wedding became a human story very close to home. While he began writing a play about the First World War and specifically the Strathcona Regiment's heroic charge on Moreuil Wood, the love story of Charlie and Mary closely mirrored personal events in his own life.
    He found he was inserting lines he and his own girlfriend had exchanged during the course of their relationship. As a result of the intensity of that relationship, the love story became the heart of the play with the tragedy of the Great War as a backdrop. He feels he was helped enormously through reading great authors such as Ernest Hemingway, Kurt Vonnegut and Robert Graves who wrote of the war experience in such a moving way.
    Massicotte's award-winning plays Looking After Eden, Pervert, and The Boy's Own Jedi Handbook series originated at Calgary's Ground Zero Theatre. In 2002, Mary's Wedding, premiered at Alberta Theatre Projects' PlayRites Festival and won the 2000 Alberta Playwriting Competition, the 2002 Betty Mitchell Award for Best New Play, and the 2003 Alberta Literary Award for Drama.
    Mary's Wedding continues to be produced throughout the US, Canada and the UK.
    Mary's Wedding plays until October 24 at the Rosebud Theatre Opera House, Wednesdays thru Saturdays. Book your tickets at 1-800-267-7553 or visit www.rosebudtheatre.com for more information.