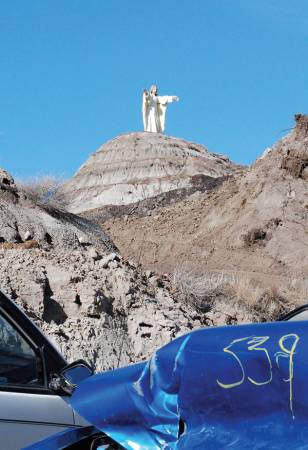 Worries about theft and vandalism has the owners of Valley Auto Recycling contemplating selling the statue of Jesus that has watched over Drumheller for years.
Ken and Andrea Hodgins operate the automobile recycler in south west Drumheller. They have had their share of vandalism and thefts that have cost the business thousands of dollars. To build a fence around the business located at the former Prehistoric Park site is costly, and it may take selling the statue to protect their business.
"We're going to sell Jesus because we need the money to build the fence," said Andrea. "We have to do something to keep the kids out."
Drumheller has been known as the dinosaur capital of the world for years, and before the Royal Tyrrell Museum was opened 25 years ago, one of the main attractions was Prehistoric Park. Nestled in the Badlands, the park contained dozens of models of dinosaurs, many designed and created by Tig Seland. When the park was abandoned, the Chamber of Commerce became the guardian of the dinosaurs, and they are now on display throughout town. Today, the gigantic statue of Jesus and a pterodactyl remain in the hills.
Andrea says the only way to protect their business from the vandalism is to build a secure barrier, which the sale of the Jesus statue could finance.
"They trespass on the property, throw rocks through all the windshields and they drive their motorbikes over our vehicles in the hills. They smash our headlights and taillights, they root through the vehicles and throw batteries through the vehicles," said Andrea. "Last weekend alone they probably caused us $5,000 to $10,000 in damage."
It is not just vandalism. She says one night thieves took every car stereo on site. Another night thieves were back for car doors.
"It has been ongoing, but it's getting worse. We are trying everything to get the site barricaded off," she said. "You put signs up, they tear them down, you put barbed wire up and they just climb through it. They party in our vehicles and we find beer cans everywhere."
"The bikers and the quaders are just as bad. They want to see Jesus and the pterodactyl and the are ripping up and down our property".
Andrea says she plans to keep the pterodactyl, but Jesus will soon be for sale. The natural question is whether there is a buyer out there for the statue.
"I bet if I go on e-Bay there is," Andrea laughs.
She says they are open to offers, or any ideas that would help solve their problem of trespassers.