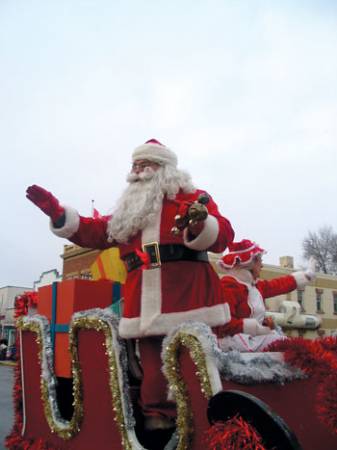 He sees you when you're sleeping, and he knows when you are awake…and he'll be heading through downtown… so be good for goodness sake.   
    The annual Santa Claus Parade is set for this Saturday, December 5 at 1 p.m. in downtown Drumheller. The parade signals the coming of the season with candy canes, hot chocolate and smiling children abound.
    Mike Todor of Downtown Drumheller says the buzz of the arrival of Ol' St. Nick is running high and there has been good uptake for the floats that will lead Santa's procession.
    Form up for the parade is  between 12 and 12:30 near the Brick. At 1 p.m., the parade and all its pomp and circumstance will wind its way through the core spreading merry, and some candy.
    Along with the  parade comes some holiday traditions. The Drumheller Lions Club will be stationed in front of the Legion selling hot dogs and hot chocolate to keep parade watchers warm, with the proceeds to go to The Salvation Army.
    After the parade, head to the Napier Theatre for another Christmas tradition. For a donation of a food item to the Salvation Army, revelers will be able to take in a Christmas movie. This year's film is Polar Express.
    There is no better way to get into the Christmas spirit than seeing Santa Claus navigate his sleigh through downtown to bring in another holiday season.