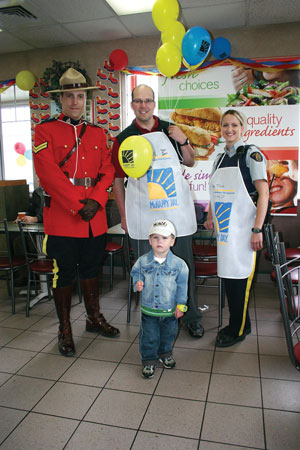 The wintery blast from Mother Nature couldn't stop the support Drumheller residents showed for McHappy Day on Wednesday, May 5.
 From opening to close, a steady stream of customers graced both Drumheller McDonald's locations supporting the cause. In all, Drumheller's McHappy Day raised $5,100. This was up almost $1,500 over last year's total.
    This year McHappy Day in Drumheller benefitted Ronald McDonald House of Alberta and the St. Anthony's School Playground fund.
    "It's a great community we live in, and we love the fact that people come out and support these causes," said Ed Mah, owner of Drumheller McDonald's. "We've had a great turnout."
    To raise funds for the charities, McDonald's donated $1 from each McMuffin, Big Mac or Happy Meal sold to the cause. They were also selling a variety of merchandise including golf balls, pins and flying discs to supportive customers. New this year was a raffle for a complete NHL 2008-2009 hockey card set, framed and mounted. Mah said he was looking forward to drawing the winning entry, noting he purchased a number of tickets for the souvenir. Alas it was not to be, as Jackie Baker held the winning ticket.
    Along with support from the customers, McDonald's typically invites well-known residents to help out on the day by donning a McDonald's apron and selling some of the charity items.
    There was a strong contingent from the Drumheller RCMP, The Drumheller Dragons and numerous other valley businesses and organizations.
    As one of the causes was St. Anthony's School playground, it was only fitting to have Principal Tim Gregorash take a shift at the drive-through.
    "There was so much support, it was almost overwhelming," said owner Brandi Schneider, noting the weather may have played a role in a bit slower traffic this year. However the pre-sale of raffle tickets and other merchandise did help to bolster the  event.
    "Everyone is still cheery," she chuckles.
    This was the 17th McHappy Day and more than 1,400 restaurants across Canada participated. Since its inception, the event has raised $28 million for children's charities.