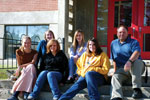 The winds of change are blowing through the halls of Drumheller Composite High School (DCHS), as students are starting to see green.
The students of DCHS have come together to form a group called CHANGE (Creating a Healthy and New Green Earth), in an attempt to try to persuade the government to incorporate green technology into the new DCHS renovated school.
Jason Rasmussen, the coordinator and main influence for the initiation of the project, spoke with Golden Hills School District facilities director, Don Hartman, about the project.