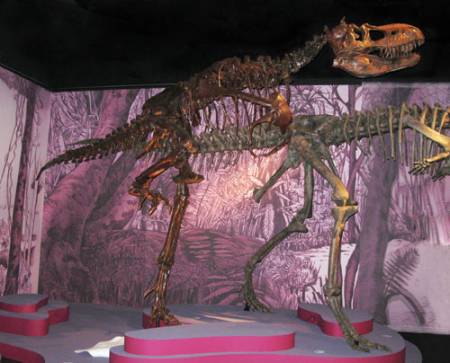 The Royal Tyrrell Museum was called upon by the Paris-based Museum of Natural History to help with an international exhibition which opened its doors on April 14, 2010, themed "In the Shadow of the Dinosaurs."
    Bringing together specimens from many countries, including China, Belgium, Bolivia, Morocco and Germany, as well as the Paris museum's own collection, the exhibition displays five of the Tyrrell Museum's specimens, the largest one being an Albertosaurus.
    "It's always good to be recognized in these major institutions around the world," said Andrew Neuman, the director of the Tyrrell Museum, who attended the opening in Paris.
    "International collaboration is something we like to do and it's nice for a fairly young player like us to be able to cooperate with a museum that was started during the French revolution. There's an important historic collection there."         Approached over five years ago about the possibility of taking part in an international travelling exhibit, the museum received a contingency from Paris for an initial discussion with Dr. Phil Currie, then the curator of dinosaurs for the museum.
    About three years ago, plans started to firm up and the project, spearheaded by the French, became serious.
    Originally, the grand plan was to use the Tyrrell's Tyrannosaurus rex, but due to logistics and space available, the project got scaled back to something more manageable.     
    Five specimens were  shipped to France at the end of February. Pieces sent included a large mammal and three dinosaurs, the largest one being the Albertosaurus, and is on display as you enter the exhibition.
    As well as offering to help with supplying specimens, one of the Tyrrell museum's scientists, François Therrien, who studies the palaeoecology of extinct animals, also became a consultant for the project, to plan the storyline and ensure its accuracy
    Divided in four sections,  it explores the reasons for the dinosaurs' extinction and also tries to see if any conclusions can be drawn to prevent further extinction on the planet.
    The story line first establishes what was alive at the same time as the dinosaurs. It then tells the story of the extinction and explains the growth and development of the other groups without the presence of the dinosaurs. To conclude, the exhibition discusses man's role in potentially speeding up the next extinction.
    The exhibition ends on February 2011 and, depending on its success, may then travel to other localities.