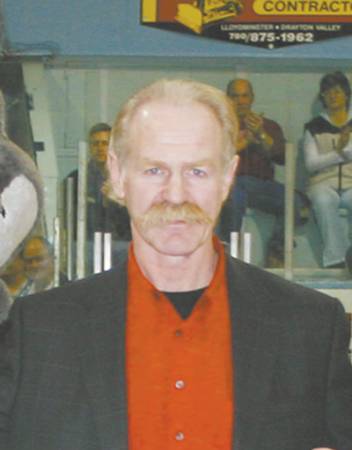 Familiar Calgary Flames stars of the past like Lanny McDonald, Jamie McCoun and Jim Peplinski will lead a group of alumni team members in a charity hockey game in Drumheller on Wednesday November 11 at the Drumheller Memorial Arena at 6 p.m.
  The event will be the official kick-off to the fundraising campaign for Drumheller's $24 million (est.) Badlands Community Facility.
    The Flames alumni team will face a dedicated and fearsome team of hockey-playing weekend warriors who have ante'd up $500 each for the honour of playing against some of Canada's greatest players.
    Players wanting to suit up and play with the All-Stars can do so by purchasing their sweater, and it's theirs to keep as a souvenir from the game.
    Event organizer and fundraising committee member Dave Powell commented that this will be a great event for hockey fans plus the proceeds from the game will go directly to the Badlands Community Facility.
  "We have a great event planned and we hope to fill the Memorial Arena," Mr. Powell said, "plus this is the official kick-off to our fundraising campaign."
  There will be a special recognition ceremony to thank Encana Corporation for their significant contribution to the project during the opening ceremonies, and lots of ways for the hockey fans to show their support for the facility as well, including a 50-50 draw and a silent auction event.
  Tickets will be available at The Sports Room Source for Sports, ATB Financial andChinook Credit Union. They are priced at $20 dollars a reasonable cost  for the entertainment value provided by the Flames Alumni Team.
    Doors will open at 5:00 p.m., with opening ceremonies starting at 5:45. This will include a Veterans Parade, singing of O Canada, and the official puck drop ceremony with major sponsors on hand.
    Following the game, a meet and greet social at Oshea's Pub will enable fans to talk to the Flames alumni players, get autographs, and enjoy some snacks, for an additional $50 ticket.