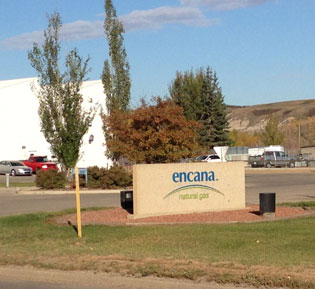 Encana announced a deal with Ember Resources on Wednesday that will see much of its Clearwater assets sold, however the Drumheller Encana office will continue on.
On Wednesday morning Encana made an announcement that it would be selling the bulk of its Clearwater Business Unit Assets to Ember Recourses.
While Drumheller is firmly in Clearwater's footprint, it looks as if Encana's Drumheller office will remain intact.
The deal is worth $605 million Canadian, and includes 6,800 producing wells spread over 1.2 million net acres. These wells produced about 180 million cubic feet equivalent per day (mmcfe/d) on average through the second quarter.
"This divestiture continues to advance our strategy. We are unlocking additional value from non-core dry gas assets as we focus on liquids rich growth areas. Our growth portfolio now includes the top two resource plays in Canada, the Montney and the Duvernay, and the top two resource plays in the United States, the Eagle Ford and, by year-end, the Permian Basin," says Doug Suttles, Encana president and CEO. "Through this transaction, Ember is acquiring a high-quality asset along with a tremendously talented team."
In the announcement, it was noted that Encana is to retina about 1.1 million net acres in Clearwater, including 480,000 net acres along the eastern Edge of the Horseshoe Canyon Fairway.
Luigi Vescarelli, community relations advisor for Encana, based in Drumheller explains that Drumheller falls within this retained area.
"The small strip that we are keeping is what will keep the Drumheller office open," said Vescarelli.
He explains the area is part of the Encana's joint venture with Toyota Tsusho announced in the spring of 2012. This is the asset they have retained.
"Encana will continue to operate those existing wells," he said.
The heart of this area is in the Standard, Rockyford area. The Encana office in Strathmore and Pine Lake will likely become Ember Resources offices.
"It is planned that some of our staff will be moving with the assets, Ember wants to take most the field staff on from what I understand," said Vescarelli.
Encana plans to retain offices in Ponoka, Drumheller and Ghost Pine.
According to a release, Ember, together with its shareholder Brookfield Capital Partners, has recently, through several acquisitions, consolidated a significant land and production base in the Horseshoe Canyon CBM fairway in Alberta. With this acquisition, Ember will own interests in 2.2 million net acres of lands, with combined gross production of 290 mmcfe/d of natural gas. Coalbed methane production is characterized as a low-cost, long-life natural gas resource.
"This acquisition establishes Ember as the leading producer of coalbed methane in Canada," says Doug Dafoe, Ember President & CEO. "This is an exciting time for our company and we look forward to working with the talented team that has made Encana successful in this area for so many years."
Encana has remained a key contributor to the Drumheller community and has supported numerous community projects. Vescarelli said Encana would continue to contribute to the areas we operate in, and even more so where we are doing development in.
The deal is expected to be completed within the first quarter of 2015.