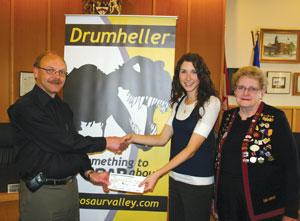 The Badlands Community Facility received a leg up from the Drumheller Lions Club.

    On Thursday morning, March 31 the club committed $16,222 to the Badlands Community Facility. These Funds were raised through casinos and it is the first donation for the facility from the club.
    Drumheller Lions President Tony Lacher says the donation is what the Lions are all about. The Badlands Community Facility is a community initiative and is a place for all members of the community to use. The Lions are also supportive of youth programs and seniors.
    The Badlands Community Facility continues to progress in just a few short months it has gone from a gravel site to a maze of steel girders. Lacher said the project is still on schedule to be completed this fall.
    When the first phase of construction is complete, the facility will house the Drumheller Public Library, a field house and wellness centre, and a dividable multi-use/ conference space. Last week Town Council approved the rental rates for use of the facility.
    The Badlands Community Facility Steering Committee has recently appointed Vanessa Hanel as fundraising coordinator for the facility.