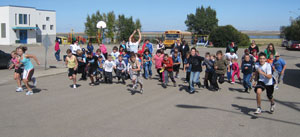 While Hussar School is a very small school located in East Wheatland County, it most definitely has a large heart. 

    The evidence was once again demonstrated in the success of our Annual Terry Fox Run held on September 23.
    Hussar School has 51 students and very few staff.  However, even with these small numbers it attained a very high goal for the Terry Fox Foundation.  The big hearted students raised $3,200 for this wonderful cause.  Breaking the numbers down, each student in our school raised approximately $62 to fight the cancer cause.
    The staff, and the community of Hussar, are not only proud of our students for raising such a large amount  of money, but also for the effort all the students put forth on the day of the run.  Many of the students completed the full 10 kilometre run.
    The top male finisher was Wacy Sandum.  Wacy is a grade 6 student, and he completed the 10k run in 57 minutes.  Besides being the top male finisher, he was the top finisher overall, beating all the staff and community runners.
    Samantha Treacy, also a grade 6 student, was the top female finisher.  She completed the run in a time of 74 minutes.
    The school and community is also proud of all the other students in the school as well.  Many of the grade 1 students completed more than half of the 10k run, with one 6 year old, Emmitt Filkohazy, completing the full 10k.  Way to go Emmitt!!
    The Hussar School staff and students would like to thank Mrs. Drydale for organizing the event and to all the parent volunteers who assisted on the day of the run. 
    These helpful parents counted laps for all the runners and walkers.  They also handed out water and motivational wrist bands to everyone doing the run.  They are also grateful for the support of community members who came out to participate and walk with our students.  They were great motivation for the students, and great company over the 10k.