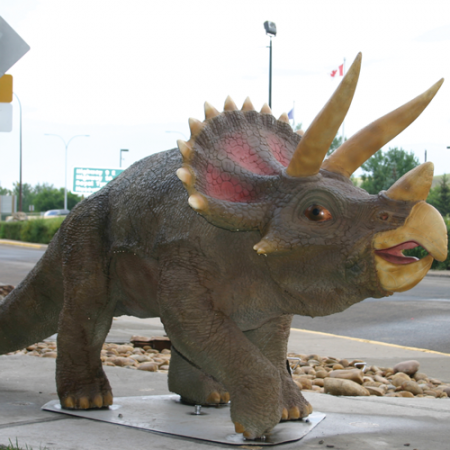 Researchers have recently made a discovery about the famous triceratops:  it may not be a separate dinosaur species but instead a younger version of a Torosaurus.
    Due to their appearance, for many years  the triceratops, with a three-horned skull and a shorter frill and the torosaurus, with a much bigger frill and two large holes through it, were believed to be different types of dinosaurs.
    Now, in the July 14 edition of the Journal of Vertebrate Paleontology, John Scannella, a Montana State University paleontologist, and Jack Horner, dinosaur curator at the Museum of the Rockies, say a triceratops is actually a younger torosaurus.
    Don Henderson, curator of Dinosaurs at the Royal Tyrrell Museum, told The Mail while it may be surprising this discovery is only coming to light now, it is very rare to get all the pieces of the jigsaw puzzle so it takes time to accumulate evidence that would lead to these conclusions.
    "It also takes people to come back with fresh eyes and maybe see something differently," he said, adding, "We are learning more and more about how dinosaurs grew and how animals in general grow and change shape."
    Henderson said that the researchers of this study have found similar things in other kinds of dinosaurs.
    "When people get over the initial excitement and they look a bit more closely they realize that it is bits and pieces of something we had before. It turns out that what people thought was something new was a juvenile of something we already knew about."
    Scannella himself said that the triceratops study suggests that it is critical that paleontologists consider ontogeny (growth from a juvenile to an adult) as a source of major morphological variations before naming new species of dinosaurs to account for variation between specimens.
    According to the scientists, torosaurus will now be reclassified as triceratops.