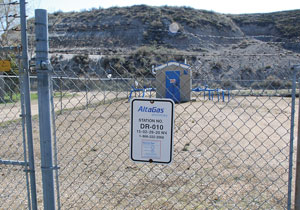 A gas utility pressure incident occurred in the Town of Drumheller early evening Monday, May 10.
Drumheller Fire Department and AltaGas crews responded to the incident which was called in just prior to 5:00 p.m.
AltaGas Utilities, vice president of Operating Services Bill Emmerzael, told The Mail the incident occurred at the Bankview pressure regulating station in south Drumheller.
"There is a process used to determine where the problem is, then it is isolated as soon as it's found, repaired, and put back into service.
"One of the sensing regulators, called a pilot regulator, was causing the over pressure to occur by not reducing the pressure by the amount that it should have."
When asked if there was any danger to the public, Mr. Emmerzael said, "Given that gas is lighter than air, as soon as it comes out of the stack on the relief valve, none of it comes back down."
"The equipment worked as it was supposed to when the relief valves went. That was the right thing to have happened so that's the good part."
What happens now is that piece that actually generated the problem, will be taken out of service and analysed as to what may have occurred there and a new piece get put into place," according to Mr. Emmerzael.
There was no disruption in natural gas service to customers and it took about 20 minutes to isolate the problem and repair it.