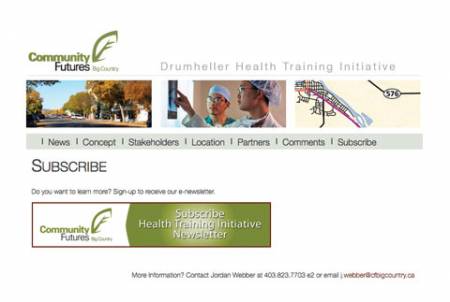 Following the Community Futures public forum meeting in November 2009 in  Drumheller, Jordan Webber stated that the feedback has been very supportive so far and the overwhelming support they received from the community has enabled them to progress the Drumheller Health Training Initiative to the next step, business planning.
   Their vision is to bring post-secondary education to Drumheller initially offering a two year certificate program in the healthcare field, with a view to possibly extend this to encompass other education programs.  They are also hoping to develop the old Drumheller hospital as a base for the program.
    In January, Dr. Jon Ohlhauser, former President of the Prairie Bible Institute, an educational centre located in Three Hills, became available to work with the project as a key educational advisor.
    Dr. Ohlhauser has worked for a number of post secondary education institutions and brings his expertise in the education delivery area.
    "His knowledge and experience are invaluable," explains Jordan. "He has a history of moving those [other institutions] forward."
    Dr. Ohlhauser is so far volunteering his time for the program but his role is anticipated to increase in the future confirmed Webber.
    In mid December, Community Futures submitted an application for a Rural Community Adaptation grant, in the amount of $400,000, 10 per cent of which will need to be cost-shared by the project stakeholders.
    Webber confirmed the majority of the cost sharing is already designated and added, "This is a very regional project so we would want to give opportunities for regional municipalities to have a part of some of the matching funds.For instance, we have a number of municipalities around us, more or less in Delia that we have been working with very closely, and we would offer that to stakeholder groups such as community organizations."
    Webber is hoping to get a decision on the grant during February.
    In the meantime, Community Futures will be starting the business planning phase at the end of January and are hoping to hold another public forum soon after.
For more info…
A new website was launched specifically for this project and can be found at www.cfbigcountry.ca/health/
Or contact Jordan Webber on 403-823-7703 .