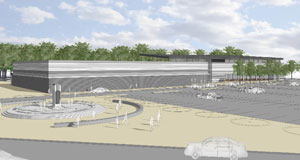 Canalta has announced it has committed $250,000 to the Badlands Community Facility.
    The company, headquartered in Drumheller, operates hotels and restaurants throughout Western Canada. They are the latest business to step forward in support of the community facility.
     Vice President Brooke Christianson, says the company has been supportive of the project from the beginning.
    "For our family and company, contributing to this facility was not a difficult decision, as the third point of our company's mission states; we are committed to providing our community with a partner dedicated to hard work, honesty, and integrity," said Christianson. "We feel that the benefits to the community will be immense as facilities of this type are known to attract newcomers, increase economic activity, and really become the hub and heart of a community, where people come together for all sorts of reasons."
     Besides financial support, Christianson has been working hard as head of the design committee. The group has been consulting regularly with Calgary Graham Edmunds Cartier architects, and is close to having the design finalized.  The target date to send the project to tenders is April 1, 2010. Last fall site preparation work was completed.
    "It's very satisfying to see this project finally come to fruition because of the obstacles we've faced in getting to this point," said Christianson. "Mike Stefanishion called us up on a cold January morning a couple of years ago to put together a group get this facility back on track after it was defeated in the plebiscite.  We've put in a lot hours since then to make this facility a reality, so it's great to see it all coming together."
    Canalta is a family owned company that operates 26 hotels in Alberta and Saskatchewan, and has obtained development rights in British Columbia. They also operate a number of restaurants in rural Alberta and Saskatchewan including Boston Pizza, A&W and O'Sheas Eatery and Ale House.