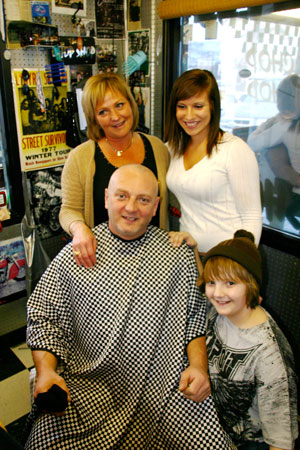 "The Lord hates a coward," Rod Morse mutters quietly to himself as he takes one last look at the silver locks and bushy beard he has been growing for months in anticipation of Cuts 4 Cancer.
    Shortly after 3:30 p.m. Wednesday, January 3, Morse ambled his way into the barber chair to go under the clippers in support of those fighting cancer. After some last ditch pleas for mercy, the familiar buzzing of clippers, and in minutes it was all over.     
    Rod pledged to put a bounty on his hair and beard for this year's Cuts 4 Cancer. The annual event has become a major fundraiser for the Drumheller and Area Health Foundation, and has given thousands of dollars to local projects to benefit cancer patients and their families. Chop Shop owner, Cathy Morse, began the event in memory of her mother Rose Schinnour who passed way from cancer. More than a year ago, Rod's father also succumbed to cancer, and this helped prompt him into the seat to have his hair cut. His tally has topped $4,100 and counting.
    Along the way, he collected dozens of pledges with the promise to the top bidder they would be first to take a swipe at Rod's hair. That top bidder was Scott McKay Contracting, and Joyce McKay, with clippers in hand took the first swipe. After that, Rod's daughter Courtney, and wife Cathy took over.
    Every year the Chop Shop dedicates the funds from haircuts to the Health Foundation.More and more, every year customers, rather than just jumping into the barber's chair, collect pledges and go all the way in getting their hair shorn.
    Beside Rod in the chair was Constable Mark Logan of the Drumheller RCMP. He raised about $300 as stylists took his hair down to bare skin, all the while worrying if his locks will grow back before his impending nuptials.
    This was the second year Walter Albrecht collected pledges to shave his unmistakable beard. He has been growing it since September and on Wednesday morning, he passed over $1,577. The trio of Wacy Sandum, Jayden Nail and his father Russell Nail combined to raise $1,475, Dylan Cole raised $2,000.
     Maddie Davies 16, repeated a tradition. Three years ago she donated her hair to Angel Hair for Kids to make wigs for children in need, and this year she repeated the task. Along the way, she raised $782 for the Cuts 4 Cancer event. She received a great donation from members of the Hussar 4-H Horse Club.
    These are just a few of those who went under the scissors for cancer.
    The Drumheller Co-op and Freson IGA gave to the event by donating fruit and sandwiches to keep the stylists' energy up for the marathon day behind the chair.