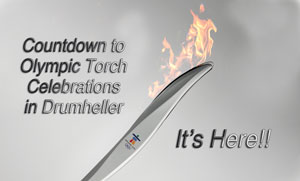 The Torch Relay Celebration is Saturday, January 16. Here are a few friendly reminders from the Torch Run Committee:

A ticket is needed to gain entry to the amphitheatre. If you are not able to attend the event and you have a ticket, please pass it on to someone who can use it.

Please take the free park & ride service as on-site parking at the Passion Play is extremely limited.
Buses will be running from both the IGA and CANADIAN TIRE parking lots:
   
    IGA: Buses will load at 9:15 am, 9:35 am, 9:55 am and 10:15 am
    CANADIAN TIRE: Buses will load at 9:30 am, 9:50 am, 10:10 am and 10:30 am
   
Seating is by general admission ( first come first served basis).  Arrive early to ensure a good seat and enjoy the exciting Olympic activities provided by the Olympic Sponsors.
Dress for the weather, in layers of warm clothing – this is a winter, outdoor event!
No alcohol, food or drink. There will be a concession on site.
No pets please.

Busing back to the IGA and Canadian Tire parking lots will be available when the event has ended.