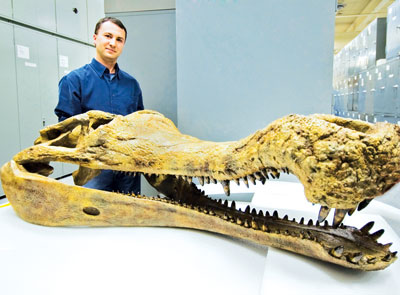 Charles Darwin once said: "A man who dares to waste one hour of time has not discovered the value of life."
    He'd hardly think of a day at the Royall Tyrrell Museum in Drumheller to be a waste. You'd have to read On the Origin of Species to get more.
    The world-renowned museum features more than 120,000 specimens, but with the celebration of the 150th anniversary of Darwin's iconic work and the 200th anniversary of his birth, a few in particular are receiving special attention.
    Meet Sarcosuchus. No, it's not a Greek philosopher but rather the largest crocodile ever to walk the Earth. Known affectionately as Super Croc, its skull measures 1.7 metres long and houses 140 teeth. That makes it bigger than Tyrannosaurus rex or Albertosaurus. The carnivorous dinosaur discovered by Joseph Burr Tyrrell in the Canadian Badlands in 1884.
    A rare cast of the skull highlights the "I think…" exhibit at the museum, which pays homage to the man whose theories are the foundations of modern biology. Darwin scribbled those words in 1837 atop a sketch of what is now known as the first ever depiction of an evolutionary tree.
    Super Croc is the biggest example of evolution, but dozens of others will have you alternately gasping in amazement and learning about the theory of evolution. From a range of skulls depicting human ancestry to the fossil of Archaeopteryx, a prehistoric bird, you'll get a sense of how and why life adapts.
    But that's just one exhibit in a marvelous museum with many more. From fun interactive displays to the window where you watch new fossils get prepared, every corner of the 120,000 square foot facility is full of wonderment.
    Just driving in to the museum is enough to give you goose bumps. With hoodoos and sandstone cliffs, the six-kilometre route northwest of Drumheller features little development as discoveries are still being made. One rare exception is the Dinosaur Trail Golf and Country Club, which has nine of its splendid 18 holes constructed around the desert-like landscape. A trip into the valley wouldn't be complete without a stop at the Horsethief Canyon, noted for its spectacular views, hiking trails and hoodoos galore. Standing atop the cliffs you can easily envision the shallow waters that covered the area 100 million years ago. The Bleriot Ferry and Atlas Coal Mine are also nearby, with stories of more recent history ready to be told.
    The Canadian Badlands would have been a veritable playground for a man like Charles Darwin. Now it's your turn to discover.