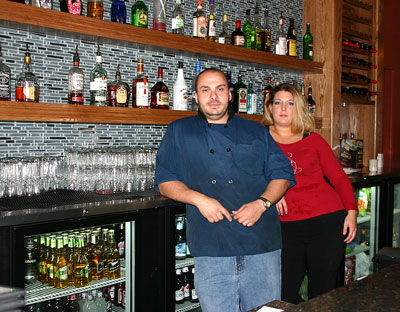 The Vintage Pub and Grill has gone back to its roots of a modern establishment for patrons to enjoy the company of friends over a drink and some good food.   
    The Vintage owned and operated by the Pappas family who have been in the valley for 18 years, has come a long way from its predecessors the Octane Night Club, and the Zoo, and has gone back to its roots. When it was built, the property was the Alexandra Hotel's bar and lounge. As construction progressed, proprietor Evan Pappas, learned about the original establishment from people who remembered the original bar.
    "As we were building some of the old timers came in and told us how it was in the 1940's said Pappas, sitting in the new Vintage Pub and Grill. The place has a warm comfortable feel, as patrons are surrounded by warm hardwood, bright windows and new tile and mason work.
    Some remember a barbershop on the north end, as well as a taxi stand and a separate entrance for women, the custom of the day.
    While the new establishment looks completely modern, Pappas said they took great care in the renovation to maintain the character of the building. They have structurally renovated the building and added modern insulation and high efficiency HVAC systems, as well as installed a kitchen. The exterior of the building retains its original character, and not only reflects a revitalized property and business, but a revitalized piece of the history of downtown Drumheller.
    He is encouraged by the health of downtown, when looking out his door; he sees the revamped Drumheller Lodge and the new Shoppers Drug Mart, as well as many vibrant businesses along the block.
 The renovations began in February of this year, although they have been in the works for almost two years. He says the previous business, the Octane Night Club had run its course. The novelty of a nightclub wearing off, coupled with changes in the Alberta Liquor and Gaming laws spurred their decision.
    The new pub and grill comes with a new feel and a unique menu. Pappas, a Red Seal chef, who also operates Stavro's Restaurant, says he worked hard on the new menu, balancing simplicity, as well as variety. It offers a full pub fare menu and is open for lunch and dinner.
    The restaurant opened for the DCHS 10 year reunion on Saturday, September 26 and has been open since. He says many are coming in to check out the new pub and grill, say hi to Peter, Sarah and staff, have a bite to eat and enjoy the setting and good friends. They say things that are vintage never go out of style.