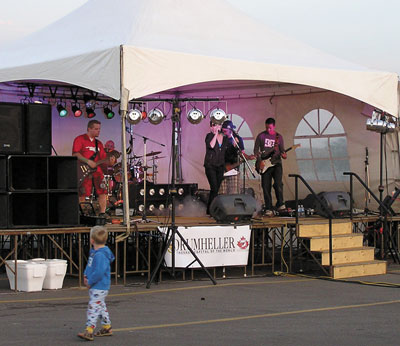 The Badlands Youth Initiative held their first event in the valley Friday night with the Back to School Band/Talent Bash.
A venue was set up at the Freson IGA on Friday night as some of the valley's young talent took the stage.
"It was a lot of fun," said Karla Roberts of the Town of Drumheller. "Everyone was super talented who signed up. In the audience, there were about 100. For the first event I'd say we had a good turn out."
She adds that youth volunteer support was strong with about 16 coming to help stage the show. There were also great community partners with a number of prizes for those in attendance.
Local band Live in Stereo kicked off the show, and acted as a house band for the talent who followed. Roberts says while there were many musical acts, there was also other styles of entertainment including comedy and dance.
Roberts explains the goal of the Badlands Youth Initiative is to engage young people.
"Basically we just wanted to establish something youth could participate in and plan. We have also have funding we can help with," said Roberts.
The Badlands Youth Initiative held its meeting on Wednesday night at the Civic Centre to review the Friday night show, as well as brainstorm for their next event.
Those interested in the Badlands Youth Initiative can check out their Facebook page.