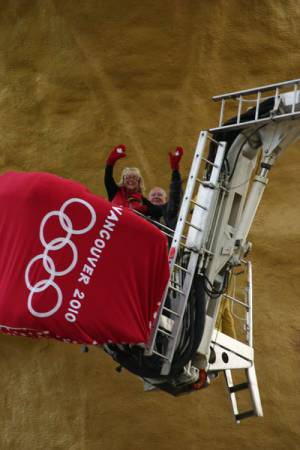 The gloves fit, as the World's Largest Dinosaur took the national stage to kick off the Red Mitten Campaign.
    The Drumheller Olympic Torch Committee, dignitaries and the curious were out on a brisk Wednesday morning to witness the World's Largest Dinosaur being fitted with a red pair of mittens. This was the national kick off to the Red Mitten Campaign. Mayor Bryce Nimmo and Tara Semchuk, who stitched together the mittens, were raised up using the Drumheller Fire Department's aerial truck and slid the mitts into place.
    "It was amazing to be up so high and see everyone down below cheering as I helped our T. Rex get her giant mittens on," said Semchuk, owner of Bits and Pieces, who came up with the idea to create the mitts. "This is Drumheller's way of showing our excitement about Canada's Games. Today, we're issuing a challenge to other communities across the country to find unique ways to use these Red Mittens to welcome the Olympic Flame and support our athletes as they go for gold!"
    Each mitten is three metres long and 1.8 metres wide, and covered the World's Largest Dinosaur's claws.  While their initial appearance will be short lived, they will be put back in place shortly.
    The red mittens are part of the uniform that 12,000 torchbearers will wear during the torch marathon.  The palm has a maple leaf while the observe has the Olympic rings. They already are expected to be a popular souvenir of the games. 
    According to a release, the net proceeds from every pair sold will help complete the funding of the five-year Own the Podium 2010 initiative, which provides Canadian athletes with top equipment and training for the 2010 Games. Any additional funds raised through the Red Mittens Campaign will support a variety of athlete- and sport-based initiatives.
    At the same time the World's Largest Dinosaur was being fitted with the new gloves, across the county in Windsor, Nova Scotia, the Mayor dropped the puck at a street hockey game wearing the new mittens.  At Tomken Road Middle School in Mississauga, Ontario, the 18 student torchbearers selected were presented with their mittens.
The mittens retail for $10, and are available at Hudson Bay Company retailers, as well as www.vancouver2010.com/redmittens. In Drumheller, they will be available at the World's Largest Dinosaur.