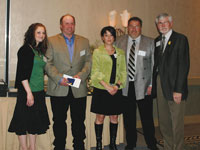 Tanya Howard's courage was honoured last Saturday night in Calgary by the Canadian Cancer Society at their annual awards night.
The Daffodils were held at the Sheraton Cavalier Hotel on April 25. Tanya Howard was awarded the Medal of Courage posthumously, a national award recognizing a person whose personal battle with cancer has exhibited outstanding and exceptional courage. Accepting the award for Tanya was her husband, Darrin Howard, and sister Stacey Wilson.
"Accepting the award on behalf of my sister is such an honour," said Wilson. "For her to start such a great event in Drumheller is a great accomplishment."
"Tanya's legacy lives through this award and her family."
In 2006, Tanya was diagnosed with a cancerous mass on her brain. About a year into her treatment, she was also diagnosed with colon cancer. Her first experience with Relay for Life was participating in a Survivor's Lap in Strathmore. Now faced with what seemed insurmountable odds, she took on the challenge to bring the Relay For Life to Drumheller.
In two years the Drumheller Relay For Life, has raised nearly $700,000, beyond any expectations.
Jennifer Robertson, Alberta/NWT senior Relay For Life coordinator nominated Tanya. In her application she said, "Tanya had a true mission heart. I've never known anyone to be so dedicated to a cause with a passion that was unstoppable. No one could say no to being involved in her dream to bring Relay to Drumheller and make it a success."
Also attending the Daffodil Awards were Tanya's parents Bill and Linda Kalbhen of the Rockyford area, and Drumheller Relay For Life coordinator Merridy Martin.
The event was emceed by CBC Calgary radio personality Angela Knight. Calgary Egmont MLA Jonathan Dennis addressed the attendees, and the keynote speaker was Olympic silver medalist Susan Auch.
"The speaker did an excellent job, focusing on being around positive people," said Bill Kalbhen. "It was a lovely evening."
The Daffodils is the Cancer Society's annual event to recognize volunteers and supporters on the national and divisional level.
"Not everything that counts can be counted," said Brian Tyers, chair of the Canadian Cancer Society, Alberta/NWT Division. "Volunteers count in a big way. You cannot count it, or put a price on it, but we cannot do any of these things without volunteers."
He said the proof is in the fact that in the 1960's cancer had a survival rate of about 33 per cent. Today it is about 62 per cent.
"We are making a difference, and until it is 100 percent, we'll keep fighting on," he said.
The Drumheller Mail was one of three to receive Special Recognition Awards at the national level. The Mail was recognized for its coverage, "above and beyond the call of duty" in supporting the Relay For Life.
The Mail devoted the highest amount of print space during the first six months of both 2007 and 2008. From July to December of 2007, three per cent of Alberta's total coverage of the Cancer Society appeared in The Drumheller Mail.
Also receiving Special Recognition Awards were the Calgary Herald and Constable Leanne Beattie of the Calgary Police Service.