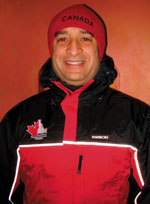 A Drumheller coach is taking the next logical step in his career accompanying the Canadian Special Olympic Ski team to the Special Olympic World Winter Games.
The Special Olympic World Winter Games are in Boise, Idaho from February 7 to 13. Martin McSween was selected in May of 2008 as an alpine skiing coach, and this coming Monday, will be on his way to the games.
"I'm excited, I've never been to this scale of competition before," said McSween. "It has been fun so far… and the athletes are pumped."
The Team Canada contingent includes 133 athletes, coaches and support staff. They will join upwards of 3,000 athletes from 100 countries to compete in winter sports that include alpine skiing, cross country skiing, figure skating, floor hockey, snowshoeing, snowboarding and speed skating. McSween leaves Alberta with team members with a police escort on Monday to join the Western Canada team in Vancouver. They will rally, and then be joined by the Eastern Canadian athletes before they head to the games.
McSween's Special Olympic coaching career spans nearly two decades. While this is his first time coaching at the world level, athletes who he has trained have competed at the World Special Olympic Winter Games. Tyler Birch competed in the Nagano World Special Olympic Games in 2005. In 2008 McSween was a coach for Team Alberta at the Canada Games, where he coached Jay Dekeyser in alpine skiing in Quebec last February, the qualifier for Boise, Idaho.
McSween is part of coaching team from across Canada. There are 12 athletes on the ski team; two of them are from Alberta. He says there are high hopes for the team.
"We have some good athletes going, and anything can happen during the games, but we have three returnees to worlds," said McSween.
This level of competition calls for special challenges for coaching. He says it is difficult to work one-on-one with athletes because of the distance. There are athletes in BC, Alberta, Saskatchewan, Ontario and Quebec. Coaching staff is in BC and Quebec. He works mainly through monitoring coaches. Through team gatherings leading up to the games, McSween has been able to put a face to most athletes.
The skiing events will be February 8-13 at Bogus Basin Mountain Recreation Area, just 16 miles from Boise.
For more information or to track the games see www.2009WorldGames.org. You can also follow the games through the eyes of the Canadian team by checking out the Chef de Mission and team manager's blog on www.teamcanada2009.ca.