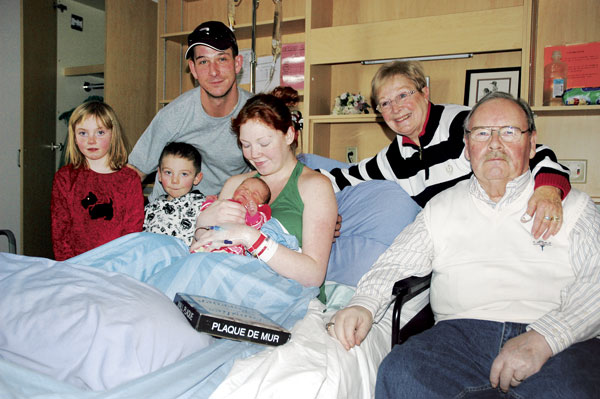 The stork arrived in the valley early this year, bringing in 2009's first baby at the Drumheller Health Centre on New Years Day, marking the beginning of a new life and a new year.
Exhausted, Charlotte Verkerk, sits with her newborn daughter, Vylit Irene Verkerk, in a room at the health centre, surrounded by members of her family including great grandparents Ted and Lilo Rolf. Vylit's grandparents are Remie and Irene DeFoor of Drumhellr. Baby Vylit, born a healthy 8 lbs., .02 oz. reaches out to feel her new world as father Bryan stands next to his new daughter and her loving mother.
"It was a very stressful birth, we are all exhausted," Bryan said of the over 20 hour labour. "She was in there a lot longer than she should have been."
The couple currently lives in Camrose, Alberta, but "still calls Drumheller home," where most of their family resides.
"Dr. Jeff Chung was just wonderful," said Charlotte, who had to undergo an emergency Caesarean section. "The hospital here is much better than the one in Camrose.
Bryan and Charlotte Verkerk, 27 and 29, now have three children with the arrival of Vylit.
Father Bryan said daughter Fieyerra, 7, and Ashtyn, 4, are "very happy" to have a new baby sister.
"I got to teach two kids now and I get to go to McDonald's for free!" said young Fieyerra about winning prizes from many businesses who donated gifts for the New Year Baby's family.
Charlotte gave birth at 8:44 a.m. on New Year's Day with Vylit weighing in at 8.02 lbs. and 19 inches in length.
Vylit's grandmother Irene, whom Vylit got her middle name from, said even though she spent New Year's Eve in the hospital, it was the "best New Year's ever."
Vylit isn't the only New Year's Baby in the family, her great grandfather, Ted Rolf celebrated his birthday on January 1st, along with another great grandchild.
The family will be making their rounds to pick up a long list of prizes from the following businesses, who donated items for the New Year's family: Canadian Tire, Wade's Jewellery, HI-WAY 9 Express, Home Hardware, Dairy Queen, Bevan Scott Salon and Day Spa, Sears Drumheller, Promotions Plus, NAPA Auto Parts, Boston Pizza, Fred and Barney's, TD Waterhouse, Centre Street Insurance, SJ Fashions, Top Waste Removal, DeMott Floors, Oasis Car and Truck Wash, Pizza 249, Cafe Italiano, Sammy's Restaurant, Drumheller Public Library, O'Shea's Eatery and Ale House, Accent Images, McDonald's Restaurant, Over the Rainbow, Allied Distributors, Western Financial Group, H&H Optical and Hearing Centre, Image Crafter Sign Inc., Diana Restaurant, Riverside Value Drug Mart, Heartland Equipment Group Ltd., Meyers Norris Penny, Don Petersen of UFA, John L. Sparling Q.C., Freson IGA, Dinosaur Trail Golf and Country Club, Wal-Mart, Pharmasave, The Chiropractic Wellness Centre, Napier Theatre, The Inn and Spa at Heartwood, Drumheller Co-op, Looking Good Ladies Fashions, Shaddy's Car Wash, ATB Financial, Bits and Pieces Keepsake Quilting, Subway, Barcomp, Midfield Supply Ltd., Fountain Tire, One Stop Paint Shop, Greentree Liquor Mart, WeatherGaurd Windows, Gus' Corner Stop Restaurant and Fine Photography.