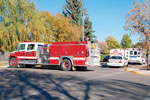 Drumheller RCMP have confirmed the death of a 35-year- old Drumheller man and his three-year-old son, was the result of a murder-suicide.
Police were called to a residence on 4th Street West in downtown Drumheller across the street from the Central School building where DCHS students are attending, on Sunday morning, September 28. Drumheller Emergency Services responded to the scene.
Upon arrival they discovered lethal doses of carbon monoxide in the home and the Drumheller Fire Department was seen ventilating the residence.
The bodies of 35-year-old Richard Saunders and his son Colton, who had turned three only one month ago, were removed from the residence.
An RCMP press release confirmed a family member discovered the incident, and there had been an ongoing custody dispute leading up to last Sunday.
Co-workers of Saunders describe him as very well liked. Doug Lubinski, of Western Chevrolet said as recently as last Friday, Saunders had brought his son to work with him.
Lubinski said on Monday, many at his place of work were in shock and questioning what went wrong. They were bombarded with requests from national media, which was distracting. While he says things aren't back to normal, the atmosphere has changed.
"Yesterday was a really devastating day for us," he said.
"There is an empty office here, and it has really left a void. It's not just as if an employee had left us… it's different."
"There is such a big shock factor, nobody ever expected him to do a thing like that."
The family of Richard Saunders requests privacy, and thanks residents for support. A private service will be held at a later date. Tributes left by well wishers line the fence at the home of Richard and Colton.
The RCMP continue to investigate, and are currently awaiting toxicology results.