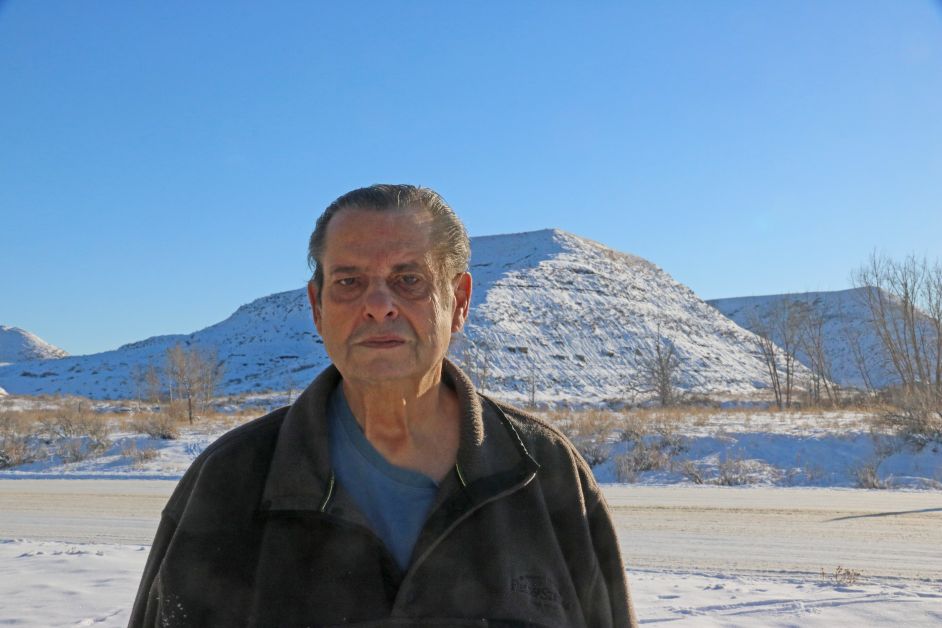 It only took 60 years, for Bill Gawdun, while life took him all over the world with the military, before he found his way back to the valley.
Gawdun lives in Rosedale, on the same block that he grew up on, in a community where his family goes back generations. It was never a planned out path, but nonetheless, it was the path here. Every morning he looks out on Robin Hood Hill, his stomping ground as a youth.
His mother, Georgina Van Volsem, was born in the Rosedale camp, and the family eventually bought a piece of land near Mary Roper's establishment. While most of her family moved away, her brother George Vansen became well-known for his bike shop.
Bill's father moved to Drumheller at the age of three and a half. His father was a miner and worked in the Star Mine. When it shut down, he went to the HyGrade Mine for a couple of seasons as it closed down.
Gawdun didn't work in the mines, but sports took up his time. He was an avid hockey and baseball player. The closest to working with coal was helping his grandfather Bill with the deliveries. His grandfather has been in the valley since the 1920s.
"I used to help out my grandfather, he had a dump truck to deliver coal down back alleys to the coal miners in the area," he said. "We would dump them off, if I wanted to work and had some free time, I could get a job taking the coal from the back alley and put them in the coal chutes."
While Rosedale had a business community and even a theatre, there was no rink and they played their hockey on the river.
He attended school in Rosedale until Grade 9 and then went to high school in Drumheller. He was one of the last classes to attend the former DHS, before moving to the new vocational school until 1965.
At that time his parents, after the mines had closed, decided to take a job as the resident supervisor of the dormitory. It was either to live in the dorms with his parents and live by dorm rules, or strike out on his own.
He married a Drumheller girl, Betty Kline, daughter of Bill Kline, the owner of Columbia Cleaners, and quickly joined the military.
"I could have picked up a shovel and started shovelling coal, or I could have picked up a pitchfork and worked at some of the farms, or I could pick up a weapon and join the military, so I opted for that," he said.
He served in all three branches of the military, starting in the army, the air force, and then the Navy. He specialized as a heavy equipment operator, a combat diver and a paratrooper.
"I didn't become a paratrooper because I wanted the excitement. The wages were not that great, but I found out if I jumped out of a plane, I could make another dollar a day," he laughs.
He served in Calgary, Edmonton, Ontario, and the East and West coasts. His first field station was in West Germany. He also completed two United Nations tours in Cypress.
He retired in Comox when he was 42.
After the military, he went to work for himself and established Bob's Beef Jerky. He did this for more than two decades.
When he finally retired he put some thought into where he wanted to spend the rest of his life. He put his furniture in storage, drove from the coast back to the valley, and got a hotel room.
"I hadn't made up my mind on where I wanted to go yet. But then I got a little homesick and met a couple of people that I went to school with," he said.
One day he was driving into Dogtown and saw an old lady with white hair outside her home gardening. He went up and greeted her. Sophie Svartka was his babysitter when he was six years old.
This was almost six years ago. After getting tired of living in a hotel, he rented a small home in Drumheller. When he went to look at it, it seemed very familiar. It turned out to be his mother's uncle's former home. He eventually purchased a home in Rosedale, where he lived with his daughter Barb.
At 75, he picked the home just doors away from where the home he grew up in once stood. This was his playground and recalls affectionately about playing in the hills with his friends. Today when he wakes up he has a view from his bed of the Hills Of Home.