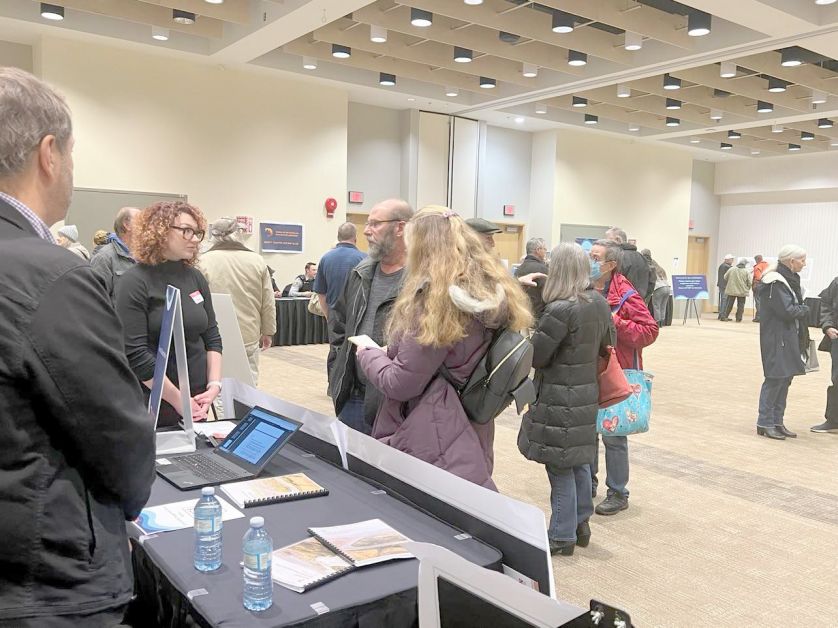 Drumheller Resiliency and Flood Mitigation Office (DRFMO) held its first "trade show" style open house on Thursday, November 17 to allow residents the opportunity to speak with those involved in various aspects of the project, including geotechnical and design engineers, and learn more about four upcoming planned projects.
While construction is still underway on the Midland, Newcastle, North Drumheller Grove Plaza, and Willow Estates berms, residents got their first look at the scope of work for the East Coulee, Michichi Creek, Hospital extension, and Downtown berm projects.
"The intent of tonight's (November 17) open house is to tell the community about the work we're planning to start construction on in 2023," explains project director Deighen Blakely. "This will be citizens' first look at berm layout and designs, and an opportunity for the design teams to get feedback on things, too."
A total of 59 people pre-registered for the event, and Ms. Blakely adds DRFMO received some phone calls ahead of the event-mostly from those directly impacted by the project-looking to learn more.
There was a steady stream of people throughout the two-hour open house.
Ms. Blakely noted the format for this event is much different than the "lecture style" community engagements the flood mitigation office has previously held. By moving to more of a trade-show style format, attendees were able to move freely between various stations to learn more about the project and ask questions from those involved, including the Community Advisory Committee (CAC), and geotechnical and design engineers.
She notes, similar to the current projects underway, it is anticipated tender packages for the East Coulee, Michichi Creek East and West, Hospital extension, and Downtown berms will be staggered between spring and summer, with construction to follow in the summer and fall-depending on regulatory approvals.
A number of other Town of Drumheller departments were also in attendance at the open house, including Public Works, Protective Services, and the Town's development office.
"We all live in one community. (Someone) might have come here to look at a road closure, or the downtown berm design, but the fact you can actually see someone to talk to about the (proposed) traffic bylaw, or talk to public works about snow plows and stuff like that-we just think it's a greater opportunity for people to engage and be heard by administration and council," said Chief Administrative Officer (CAO) Darryl Drohomerski.
A comprehensive report of feedback and questions received during the event will be posted to the flood readiness website at https://floodreadiness.drumheller.ca/community-input in the coming days.