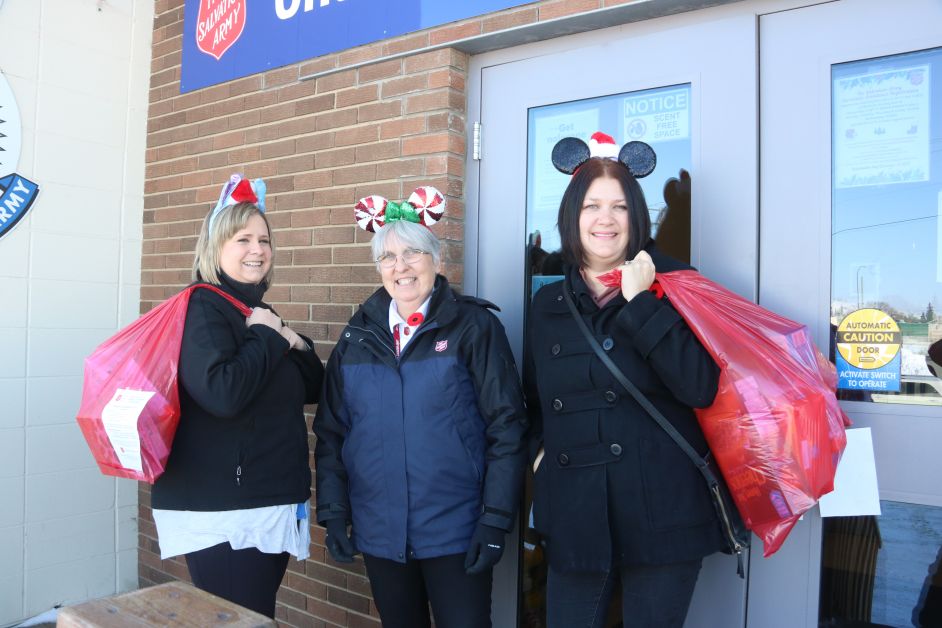 While most are putting away Halloween decorations, The Salvation Army and local volunteers are already looking forward to the Christmas season and organizers of the annual Food Drive are ready to hit the ground running.
The Red Bag Food Drive is a tradition where volunteers blitz the community collecting donations for The Salvation Army Food Bank.
Residents participate by filling a red plastic bag, provided in this week's edition of The Drumheller Mail, with donations and leave it on their doorstep for volunteers to collect.
The food donated helps the Salvation Army fill its Christmas hampers and provides supplies for the food bank going through the winter.
Community and family service coordinator for the Salvation Army, Amanda Courtenay says it has been a difficult year for many and they are anticipating preparing the same number of hampers as last year.
"Last year we served 180 families," said Courtenay.
The Red Bag Food Drive is on Thursday, November 24.
Organizers are asking volunteers to meet at designated muster points throughout the community at 5:45 p.m.
When the donations are collected they are brought to the Salvation Army Church to be sorted. Volunteers are also needed for this task.
For more information or to volunteer contact Summer Manca at 403-821-3163.
This is just the kickoff for the season.
The Salvation Army will be kicking off its Kettle campaign on Friday, November 18 at Freson Bros. Kettles will be at Freson Bros, Walmart and Extra Foods for the Christmas season.
Those wishing to register for food hampers can do so by appointment from November 21 to December 2. The Toy drive is from November 28 to December 12.
For more information on volunteering, please call The Salvation Army at 403-823-2215.
Red Bag Food Drive
Muster points by community:
•Newcastle - Newcastle Community Hall
(1301 2 Avenue West, Drumheller)
•Nacmine - Nacmine Community Hall
(119 3 Street, Nacmine)
•Bankview/Hunts - Bottle Depot
(118 7 Avenue SE, Drumheller)
•Midland - Midland Community Hall
(2011 1 Avenue NW, Drumheller)
•North Drum - Oasis Car Wash
(101 Bridge Street, Drumheller)
•Riverside/Willow Estates -
Drumheller Valley Secondary School
(450 17 Street East, Drumheller)
•McConkey Park - Court House
(511 3 Avenue West, Drumheller)
•Downtown - Brick Parking Lot
(11 Railway Ave East, Drumheller)
•Greentree - DQ Parking lot
(1102 Highway 9, Drumheller)
•Morrin - Main Street
•Munson - Munson Community Hall
(201 Main Street, Munson)
•Rosedale - Community Hall
(110 3 Avenue South, Rosedale)
•Carbon - Carbon Community Centre
(718 Glengarry Street, Carbon)