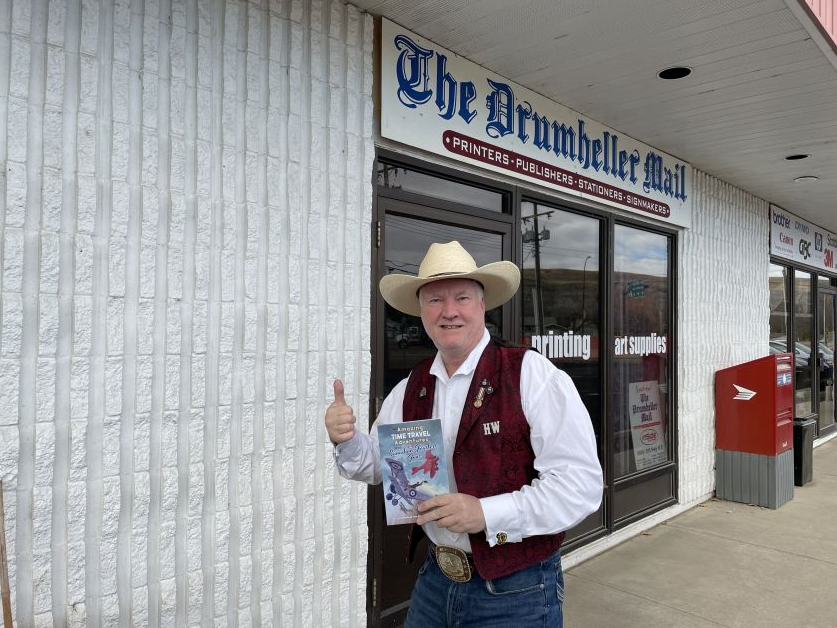 The History Wrangler Rob Lennard is spreading the rural history of Alberta and Canada through the lens of characters originating in Drumheller.
In 2013, Lennard was through the valley with his book The Amazing Alberta Time Travel Adventures of Wild Roping Roxy and Family Day Ray. The fictional twins were from Drumheller and attend DVSS, and the book referenced The Drumheller Mail. This was the book's second iteration and was a Calgary Stampede best seller at its centennial.
Since then Lennard has been busy, and after starting a small Youtube channel with the Alberta History Show in 2020. It was cut short because he was contacted by The Cowboy Channel, which approached him to do a national television show.
"After two shows (the Alberta History Show) a broadcaster approached us to do an actual TV show for a network," said Lennard.
The History Wrangler is now working on its third season for the Cowboy Channel, and Lennard hosts, produces, and writes the show and is planning to film segments for its third season.
"For season three I want to get Drumheller involved, with a dinosaur segment," he said.
If he isn't busy enough he has completed a sequel to The Amazing Alberta Time Travel Adventures of Wild Roping Roxy and Family Day Ray. This time it is the Amazing Time Travel Adventures of the Canadian Fearless Four. This book follows Drumheller hero Ranger Roxy as she time travels back to the Battle of Vimy Ridge in World War I. They then time travel to 1944, where the hero joins the 1st Canadian Parachute Battalion during the D-Day landing.
The book also has a section detailing the biographies and history of the real men and women who served, and who Lennard based the characters of the book on.
Lennard is also a singer-songwriter and is set to embark on a five-country tour with his program Cowboys and Ranchers off to the Great War and the Battalions.
"We are performing in war museums in five countries with my band the Rocky Mountain Gang Band," said Lennard.
He plans to return to the valley to talk with students as well as shoot segments for the upcoming History Wrangler season.