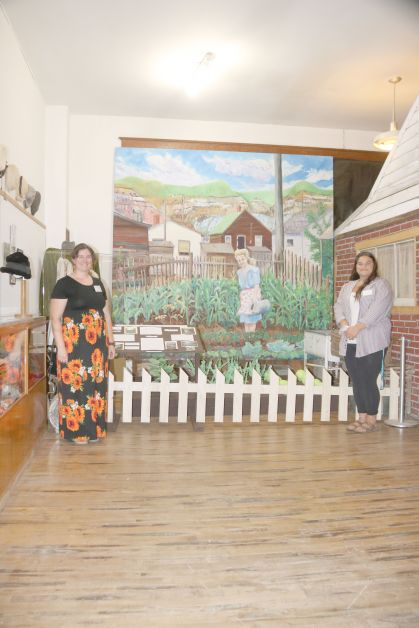 A new exhibit at the East Coulee School Museum explores a part of life often overlooked in an industrial town, and that is of the women.
2022 summer student Monica Cimetta has completed a new exhibit in the family room at the East Coulee School Musuem, called the Women of East Coulee and the Family Garden. Largely using existing artifacts in the institution's vast collection, she has designed a display that shares the history of homelife in a mining town.
"Women of East Coulee were the unsung, unseen heroes of the mining days," said the Executive Director of the East Coulee School Museum Valerie Given. "Our mandate is to preserve the mining history, the family side of the history. We focus on what the kids' lives look like at school, what the families looked like, and what was their dynamic?"
Cimetta is a third year Archaeology student attending Trent University, Ontario. She was inspired on her first visit to the museum, by seeing the Family Room, which features an entire home from the community rebuilt within the museum.
"It showed the life of the families of East Coulee as a whole, and less of the miners and the children, it shows the background life," said Cimetta.
She interviewed two local women, Linda Gerlinger and Bev Deschenes, and received some valuable background information, learning more about the history.
"In both conversations, they brought up the gardens and how women took huge roles in the gardens," she said. "It expresses that the women had much bigger roles than being moms, gardens were a huge part of the community, and in that sense, they did bring the community closer together."
Cimetta says even today, when walking around the community, gardens are still a centrepiece of the yards, and play an important role. She says she even conducted some of her interviews with women in their gardens. The exhibit also tells the stories of individual women in the community past and present.
The display features a large canvas painting, depicting family life, as well as a garden filled with the staples that would have been grown in the early days of the community. It is tied into the home on-site through the artifacts, depicting the dress, social conditions and cultural life of the early mining days.
"As a community comes from one area, especially like East Coulee, which was very Hungarian and Ukrainian, they came together as if they were back home. They brought home here, and they made it their home, and they did that together as a group," said Cimetta.
"The shared culture really helped with the foundation of the East Coulee community," adds Given.