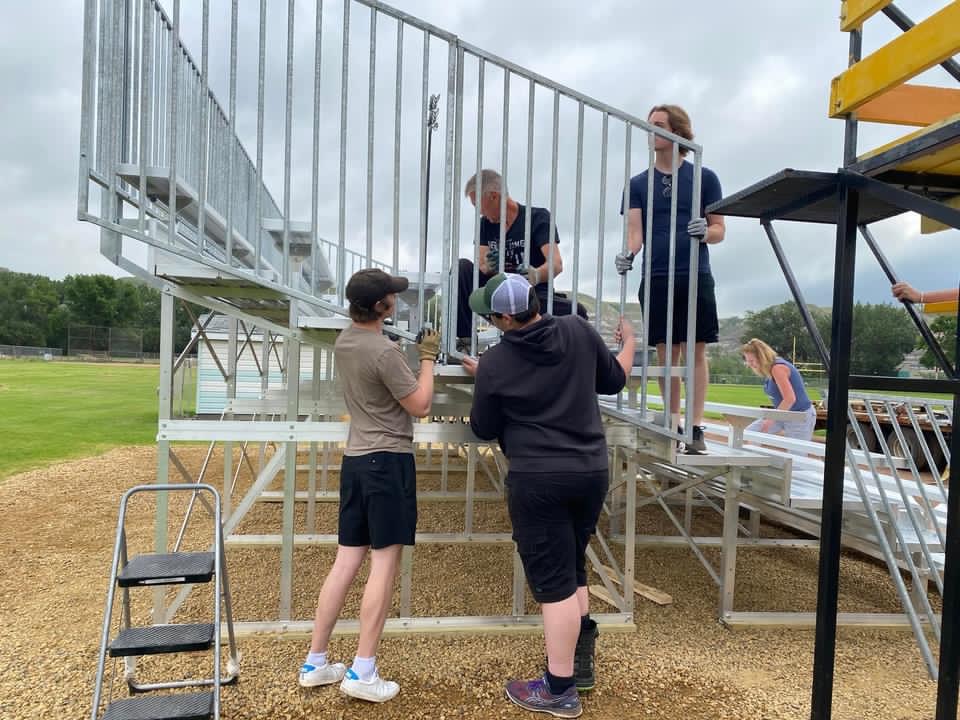 Members of the Drumheller Titans put in a little sweat equity, helping to install a new set of bleachers at the football facility.
Last week members of the Senior Titans joined Quick Sit Seating of Sherwood Park to install the new aluminum seating ready for the upcoming season.
Drumheller Community Football Association (DMFA) received the Drumheller Fund Grant from the Royal Tyrrell Museum Cooperating Society, which got the project to get off the ground and running. The teams are appreciative of their fans and love community support and now have outstanding bleachers for everyone to come out and cheer on the Peewee Terrapins, the Bantam Titans and the Senior Titans.
This is a major project for our DCFA program, a volunteer-driven organization and is hoping to keep the program growing and to continue with fundraising projects that improve the program and the community.
The bleacher project took three full days for completion to build. Some excellent volunteers came out to help over the three days from the Senior Titans team, including Evan Manca, Dexter Nastiuk, Ryder Upton, Haydn Jones, Teagan and Dave Watson, Teigan and Jason Sattler, Gavan Cassidy and Kim Suntjens dropped off beverages and snacks throughout the project.