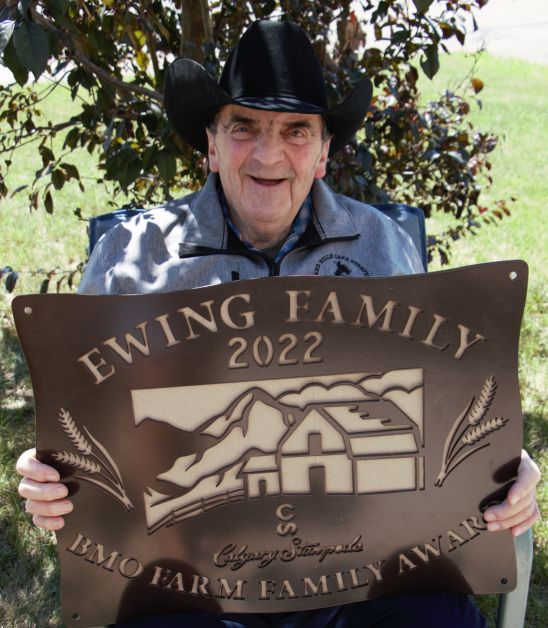 The BMO Farm Family Awards are awarded annually during the Calgary Stampede to 19 families who are selected for their contributions to the agriculture industry and their community. The 2022 BMO Farm Family Award for Starland County was awarded to Fred Ewing and the Ewing Family Farm.
Fred Ewing was born to Louis and Rose Ewing on April 30, 1944. His great grandfather, Lee Ewing, homesteaded in the Verdant Valley area in 1908.
Fred bought the Rodseth farm just two miles from his family farm in 1967 where he has farmed for 55 years. Fred has passed his love of farming on to his four children, 10 grandchildren and three great-grandchildren.
The farm is a mixed farming operation split between cow and calf, and grain land. Fred has always enjoyed the traditional way of life, so it is no surprise he used horses to work his livestock.
Branding day was always a family favourite on the farm.
Neighbours would get together and help each other out, which made for a lot of good times and funny stories. In later years, Fred would trade in his reins and spurs for a different kind of horsepower.
When Fred wasn't attending to his livestock, you could find him working on his machinery getting things ready for the crop season. Over the years, all four of his kids have helped with the farm operations.
Today, the farm continues to operate in a similar manner to carry on with the Ewing Family legacy.
Over the years, Fred and his family have been involved in the community.
Fred was the Arena Director for the Drumheller Rodeo for 11 years. The whole family at different times has, and does, volunteer at the Handhills Rodeo.
The family has also been a part of 4-H Beef and 4-H Horse clubs, High School Rodeo, and countless Verdant Valley community events. No matter what was needed Fred was always willing to lend a helping hand.
In 1993, Fred's love for speed led him to the sport of chariot and chuckwagon racing. He was a part of the All Pro Chariot and Chuckwagon Association as well as the Alberta Professional Chuckwagon Association for 25 years.
Fred was awarded the Most Sportsman Cowboy Award by the Calgary Professional Chuckwagon and Chariot Association. Another highlight for Fred was racing in Fort Worth, Texas.
Today, Fred has slowed down and enjoys the simpler things in life. He cherishes his visits with his many grandkids and telling stories of the past with his family and friends over a coffee. Fred's love of family and farming will continue to be passed down to other generations as it was passed down to him.
"The farmer's joy is to see the results of his planting."
- Lee Ewing