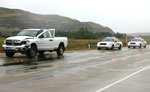 The pursuit of a stolen truck involved in a hit and run accident this morning, ended quickly and without injury as the truck was pulled over in the Lehigh area.
An RCMP constable attempted to stop the vehicle at the base of the North Hill. It was believed to be involved in a hit and run accident near the Morrin Weigh Scales at about 11 a.m.
The white, four-door Dodge truck continued through the downtown core, and east on Highway 10. Police instigated the pursuit. The chase concluded near the community of Lehigh, when the officer saw a cloud of black smoke. They were not able to continue because of engine failure.
Road conditions were less than optimal, as it was raining at the time.
A male and female were taken into custody.
A second police cruiser was involved in a single vehicle accident, as it was following to support the pursuit. Careening into a pole, eastbound on Highway 10, it appears the rear wheel detached from the car, and it side swiped the pole. The officer was not injured.
The truck was stolen from the Red Deer area this morning. Police recovered a number of items from the vehicle that are believed to be stolen, as well as break-in instruments. A number of charges are pending, including hit and run, failing to stop for a peace officer, possession of stolen property and dangerous driving.