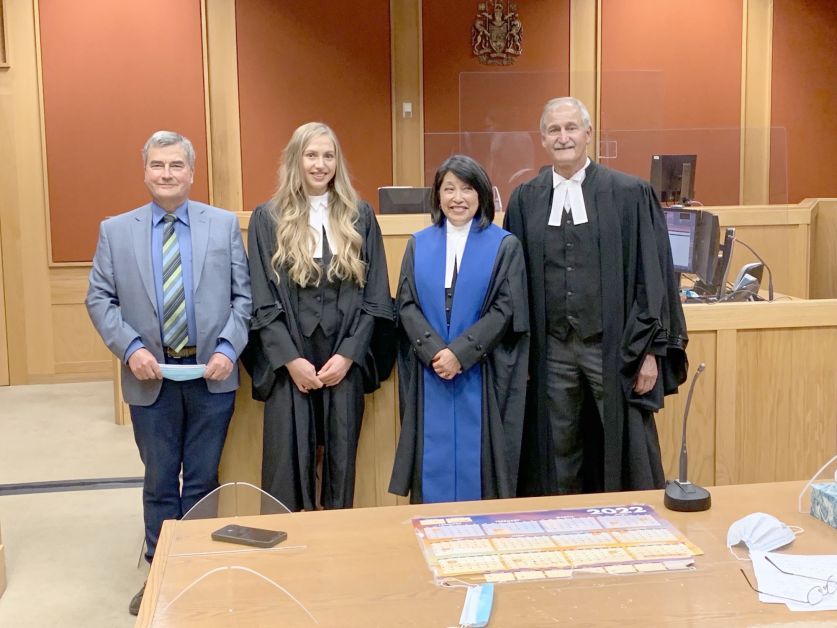 Madison Colberg was called to the Bar of the Law Society of Alberta at a ceremony at the Lethbridge Courthouse on Friday, June 24.
Colberg who has been articling at Kloot and Associates firm in Drumheller, was admitted to the Bar by Assistant Chief Judge The Honourable S.L. Oishi.
She is grateful for the support of her mentors.
"I have so much respect for (Principal) Colin Kloot and Bill Herman for the mentorship they have done. It has been incredible. They have over 80 years of experience," said Colberg of her experience articling.
Kloot shares the sentiment.
"It has been a privilege," said Colin Kloot, noting she will be his last pupil after having seven law student complete their articles under his supervision.
"She has been an excellent pupil and works hard and is going to be a real asset to this firm and we are hoping she will stay on in Drumheller because she was raised here, her roots are here, her family is here and her interest are here, so it is a wonderful fit."
She is comfortable in Drumheller and says by her second year of university she knew she wished to return home for her career. She graduated from DVSS in 2014, and took her undergraduate in marketing and entrepreneurship at Mount Royal University. She went on and graduated from the University of Ottawa, Faculty of Common Law (cum Laude) in April 2021. She was accepted into the accelerated CPLED PREP course for a select number of Articling students in Alberta to complete legal modules, assignments and presentations.
From September 2021 to June 2022 she articled under Colin Kloot with continuous guidance and mentorship from Bill Herman.
"I loved the experience, but I think you can't take a small-town girl away from a small town. Drumheller has so much, I can bike everywhere, and I can walk down the street and know everybody, tube down the river, all of these things," she said.
"Law always interested me because I believe you have a lot of power to help in so many different ways, For an estate, you are helping a family, to a divorce, you are helping children be parented the right way," she said.
Kloot is impressed with the work Colberg has put into her training.
"Madison is ready, willing and capable of fulfilling the gamut of services we provide as barrister and solicitor. I have little doubt she will be very competent," he said.
While she has a diverse background she enjoys doing corporate, wills and estates and real estate.
"Definitely I like more of the solicitor work," said Colberg.