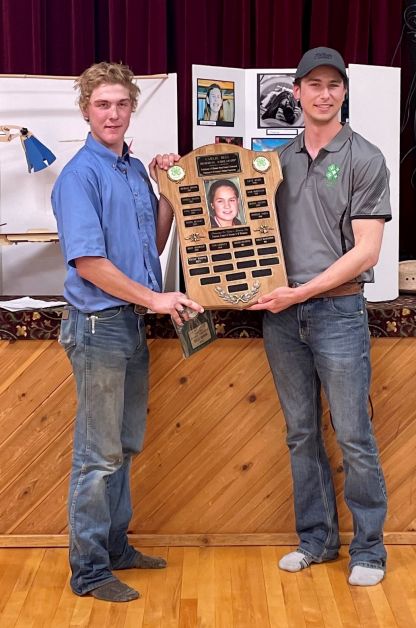 The 11th annual Carlie Bell Memorial Scholarship was presented June 6 at the Drumheller District 4-H Show and Sale. Carlie Bell was an exceptional 4-Her. She had great leadership skills and promoted 4-H involvement. In 2011, Carlie died of viral encephalitis after a work exchange/travel adventure in New Zealand and Australia.
The 2022 Carlie Bell Memorial Scholarship goes to Ryley Mappin. Ryley has been a member of the Rumsey Rowley 4-H Beef Club for eight years. He is currently president of Drumheller District 4-H Council.
Ryley believes "being a leader is not only good in life, but extremely fun too!" 4-H has helped grow both his leadership and communication skills. His 4-H experience include presenting public speaking workshops, working with & leading others at Junior 4-H Winter Camps, speaking at both the Alberta Young Speakers for Agriculture and the Canadian Young Speakers for Agriculture in Toronto. Speaking and leading student peers at the Vulcan Community Youth Farm Safety and Ag Leadership Project Day, and so much more. Giving back to members and communities has helped prepare Ryley for a bright future.