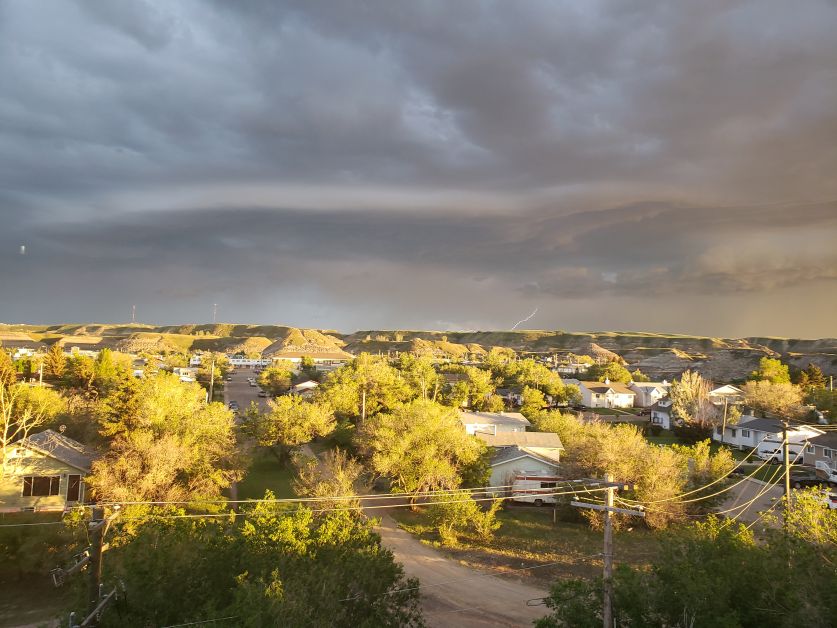 Farmers and ranchers breathed a sigh of relief last week as the skies opened in the area bringing a much-needed rainfall. While it dampened the Drumheller and District 4-H Show and Sale last Monday, it was still very welcome.
The Hemming/Leonhardt place in the Verdant Valley did well. Lynn Hemming tells the Mail they received 1-3/10" and every drop was welcome.
"We could always use some more, it's a good start to put it that way," said Hemming, noting it was also very timely.
"A lot of our Canola was not coming up, without some more moisture it was just sitting in the ground."
Don Ostergard in the Dalum area, who is averse to converting his calculations to SAE, tells the Mail he received about 27 millimetres of rain, which came at a good time.
"It is enough for a while. With that rain we are probably good until the end of the month," he said. "It was very welcoming for the cereal crop, it was very timely."
David Webb of King's Seed Farm in the Three Hills area fared even better with 1-6/10" last week. Like most farmers, they still wish for more.
"Keep 'er coming," he said. "Let me spray a few more fields first, but then it can start again."
"Hopefully we can get a little more at the beginning of the week, and then we can start building some reserves."
This week started off good again for everyone from farmers to city slickers who don't want to water their lawns.
Farmers who were facing a prolonged dry spell dating back to last year can breathe a sigh of relief, but at the same time, their livelihood leans heavily on Mother Nature.
"I spent my whole life waiting for it to rain," said Ostergard.