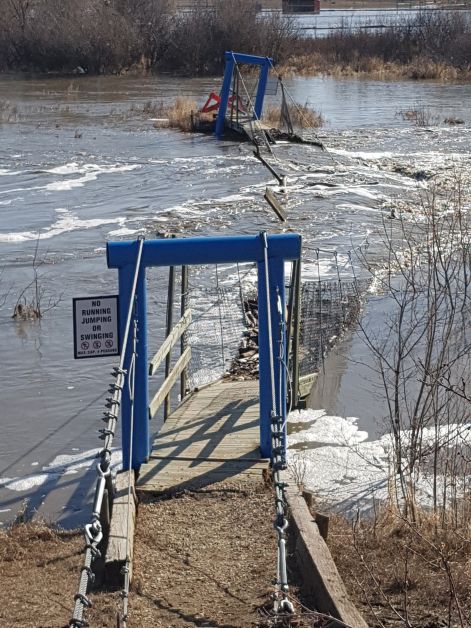 The Village of Carbon has opted to not replace the swinging bridge over Kneehill Creek, which passes through the Carbon Valley before joining the Red Deer River, that was destroyed in the 2018 flood.
Council discussed the bridge replacement at the April 19 Village Of Carbon Council meeting. The bridge which connected the Village on a walking path was washed away. Council had been informed the work on replacing the bridge could be covered through a flood grant program. The estimated cost for the bridge repair came in at just over $1 million.
Mayor Bryan Peever said council voted not to take on the project. They were hesitant because they did not trust the full costs would be covered.
"They (Alberta Government) said, 'you guys take out a line of credit for $600,000 and start the project, and when you finish the project, we'll pay you back,'" explained Peever. "We kind of did the same thing when we had the flood in 2018, and there were lots of things then that were more important than the bridge, so we took care of those. With those grants, we sent in what we were going to do and how much it was going to be, and they said, 'go ahead.' We had to go spend the money and send them the receipts. They only reimbursed us 42 per cent, and they said they were going to give us 70 per cent."
He said council was not willing to take the risk of starting the project only to learn it may not be fully covered by grants.
"We can't afford that, we can't take that chance," he said. "Council was very reluctant to go down that road."
Earlier in the term council has identified taking on dealing with improving its infrastructure as a priority, and is considering borrowing to complete this. If they also borrowed to begin the bridge project it would put the Village close to its debt limit.