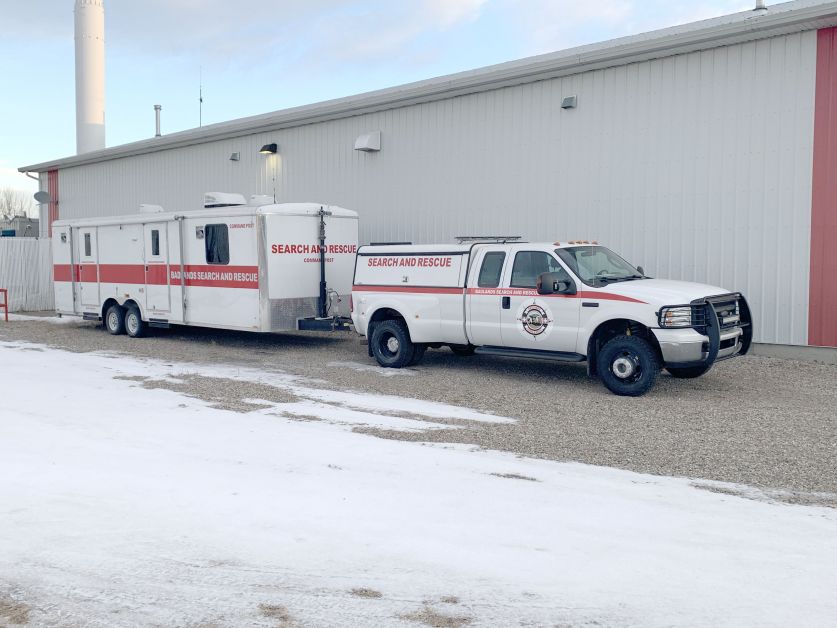 Badlands Search and Rescue (SAR) is looking to bolster its ranks to continue to provide its important service to area communities
Badlands SAR has been around for over 10 years. And was formed to provide coverage in Eastern Alberta where there was a gap in services.
On February 19 it held a recruitment session at the Badlands Community Facility and it was helpful.
"We had a couple of people come to it who were really interested, and that was promising," said Badlands SAR President Scott Campbell, adding they may look at doing another in the near future.
Campbell said COVID-19 was tough on the organization. Its membership has fallen and because of COVID, it has not been able to actively recruit with the shutdowns. Despite this, they still have a core of about 15 members. With things opening up they are reaching out to members of the community to provide information on the important work they do and how to get involved.
Badlands SAR has been involved in several searches in the area since its inception. It also provides its members to other regional SAR organizations when people are needed.
"We have assisted the RCMP on several instances, especially around the Gleichen area," he explains.
They were successful in locating a woman who went missing in the Wintering Hills area. He says over 110 volunteers helped in that search. They were on hand to provide search services right in Drumheller in December of 2020 for a missing man.
He explains there are qualifications needed to join up. A person wanting to join must be 18 years of age, be a resident of Alberta, and pass a criminal record/vulnerable sector check.
Badlands SAR has an application process and interviews to get to know the applicant.
"I personally believe there is a role for everybody… so we want to make sure everybody has an opportunity to apply and we can see where they best fit in," said Campbell.
He says they are planning to begin training for applicants possibly as soon as this spring. This will include a weekend of basic training and skills. There is also a certification course over the course of two weekends.
"That is where we train everybody on how to search. It is not just going out in a big line of people and walking across the field there is a science behind what we do," he said.
They also do survival training, patient care, map skills, and GPS, all the way to how to best dress for a search.
Those interested can learn more by going to the Badlands SAR Facebook page or
www.badlandsearchandrescue.com.