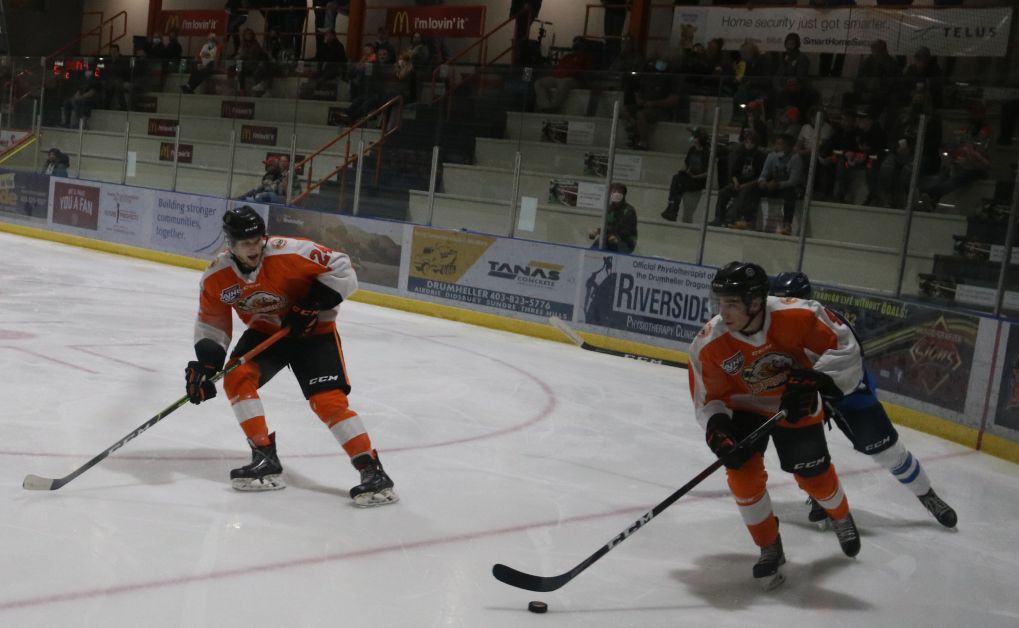 The Dragons are on fire, extending their winning streak to five games and landing in second spot in the Viterra AJHL South Standings.
On Wednesday, November 17 the Dragons hosted the Olds Grizzlys and came breathing fire. Luke Fennig scored shorthanded just 2:50 into the game. Myles Hilman and Sam Lozinski followed it up before Fennig connected again on the powerplay, going up 4-0 at the end of the first period. Lozinski added his second in the second, and Ty Daneault scored in the third, as the Dragons went on to a 6-0 win. Goalie Eric Ward notched the shutout stopping 25 shots.
The Dragons' march didn't end there as they hosted the Lloydminster Bobcats on Friday, November 19. The Bobcats scored first, but Tanner Willick found the net to tie the game after one period. The Dragons went up 3-1 in the second with goals from Daneault and Hilman. Hilman also scored early in the third period before Lloyminster scored their second. Daneault scored at the 12:15 mark, and then again four minutes later, as the rookie notched a hat trick. Dragons won 6-2.
On Sunday, November 21, the Dragons were in Canmore to take on the Eagles. Canmore jumped out to a two-goal lead after the first period.
In the second Griffin Asham-Moroz started the Dragons off with a powerplay goal just 58 seconds into the period. This was followed up with two goals from Kiano Robinson, Carter Belitski, and Fenning.
Fennig scored again early in the third period before the Eagles connected on the powerplay. With 10 seconds left, Fennig completed his hattrick as the Dragons went on to a 7-3 win.
This weekend the Dragons are back on the road with games in Sherwood Park on Friday, November 26, and then Olds on Saturday, November 27.