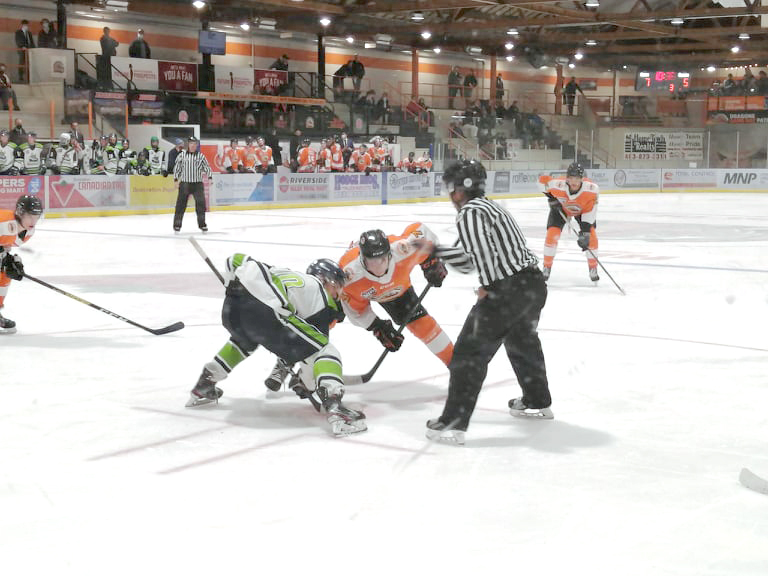 The Dragons wrapped up the exhibition season with a winning record, notching wins in four of their six games, with three straight wins last week.
The Dragons were in Olds on Wednesday, September 8 to take on the Grizzlys. After a scoreless first period, the Grizzlys scored two in a row in less than five minutes. The Dragons answered back with two straight goals from Sam Lozinski, and then Myles Hilman. Olds scored again to briefly take the lead, but with a minute left, Tanner Willick tied it back up.
In the third period, Jarred Schrock put the Dragons up 4-3, and Will Christian added one more. Olds came back with two goals to end regulation time tied at 5. Hilman scored his second, and the game-winner, 1:36 into extra time.
On Friday, September 10, the Dragons were back on the road to take on the Calgary Canucks. Cyle Clayton put the Dragons up by a goal to lead the first period. Hilman scored 1:44 into the second period. Calgary answered back, but Vann Yuhas found the net unassisted with 1:15 left in the period to put the Dragons up 3-1.
Kody Willick added an empty-net goal at the 18:45 mark of the third, and Calgary added one 19 seconds later. The Dragons won 4-2.
The Dragons were back on home ice on Saturday, September 11, this time to host the Canucks. The Dragons jumped out quickly and took the lead with goals from Lozinski and Willick, but Calgary tied it up by the end of the first. The Dragons rattled off four straight goals in the second, from Luke Fennig, Moe Hakim, Lozinski and Zach Burns. Calgary scored one, to end the period up 6-3.
Carter Belitski put the Dragons up 7-3 just 53 seconds into the third period. Calgary added two more in the third. Final score was 7-5 Dragons.
The Dragons' regular season begins this Friday, September 17 when they take on the Calgary Canucks at home. Game time 7 p.m.