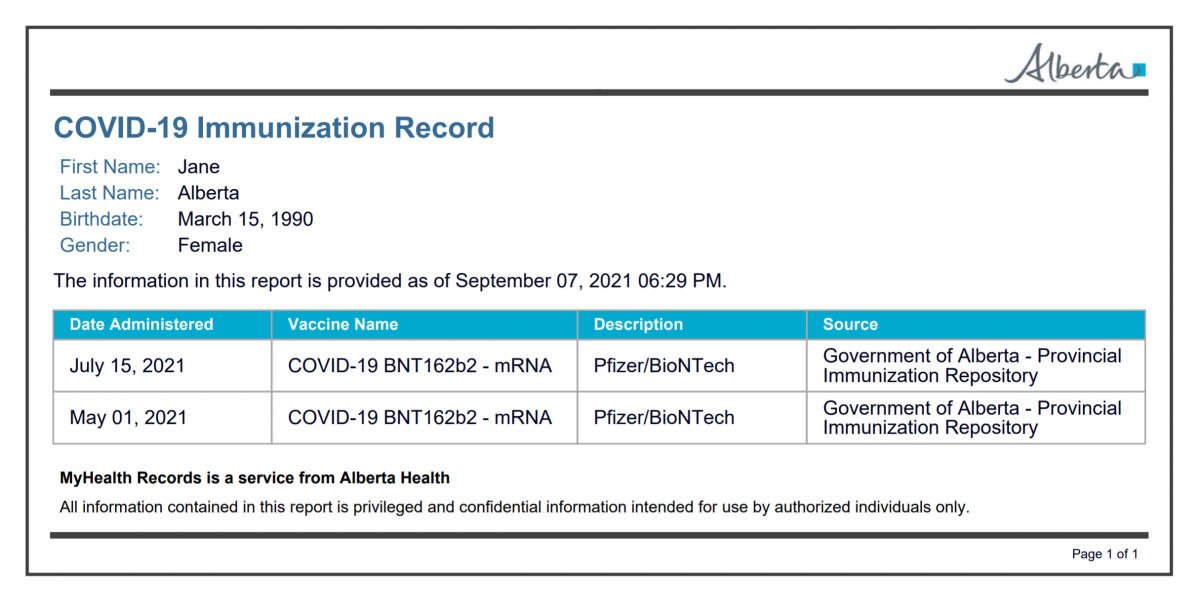 Beginning Thursday, September 16 Albertans will be able to print a copy of their card-sized COVID-19 proof of vaccination, or show it on their phone or tablet.
Work is also underway to make proof of vaccination available through a QR code, which will be an easier, faster, and more secure way to share the immunization record when needed. The QR code is expected to be available in the coming weeks.
"We continue to make it easier for Albertans to securely access their health information, including immunization records, in the palm of their hand any time and anywhere through MyHealth Records," said Alberta Minister of Health Tyler Shandro in a press release.
It is recommended Albertans plan ahead and save their proof of vaccination card on their phone, or print it out before the needed date. MyHealth Records may experience high traffic volume before major events and long weekends.
Albertans who need support can contact the MyHealth Records support line at 1-844-401-4016 between 7 a.m. and 7 p.m. Monday to Friday, and weekends from 9 a.m. to 5 p.m.
In the last three weeks, more than 110,000 Albertans have created their MyHealth Records accounts, bringing the total number of users to about 910,000.
COVID-19 immunization records have been available since December 2020 for Albertans aged 14 and older. All Albertans should receive a paper immunization record when their COVID-19 vaccination is administered.