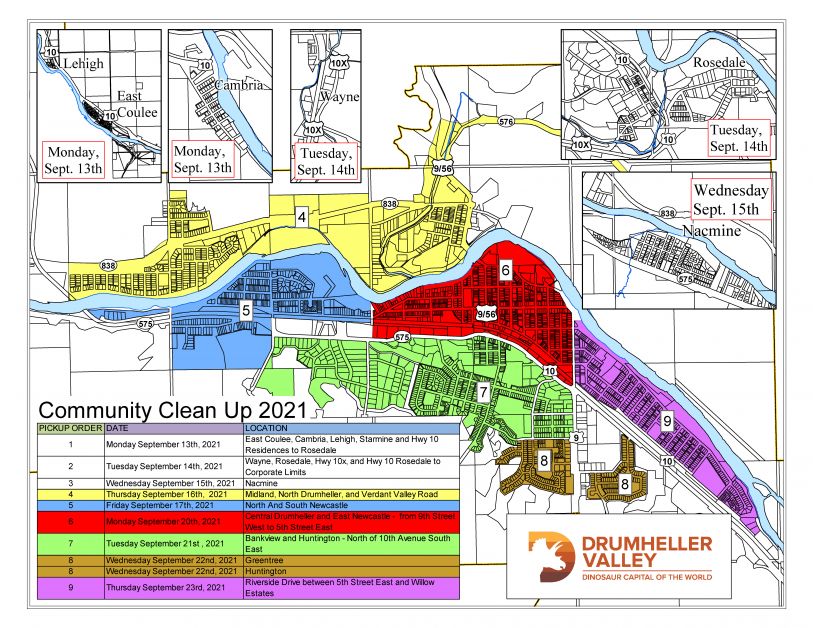 It's been a busy summer, but now it's time to tidy up and get ready for winter.
The annual Drumheller Community Clean-Up begins next week. This is an opportunity to get rid of all the things that have been cluttering your yard, garage, or basement.
The annual Clean Up begins the week of September 13, with the first pick up in East Coulee, Lehigh, Cambria, and Highway 10 residents, and concluding on September 24 in Riverside.
Acceptable items include household items and furniture. Outdoor items such as barbecues, outdoor playsets, and mowers. Tires, wheels, propane tanks, vehicle batteries, and paint are also accepted. Freon appliances are accepted, however, residents will need to provide a $15 disposal fee. This can be purchased at the town hall.
Renovation material or household hazardous waste will not be accepted. See ad on page 9 for complete details.
Sometimes one man's trash is another man's treasure. The weekend prior to the community clean-up, residents can "Kick It To The Curb" and others can pick it up.
From Friday, September 10 to Sunday, September 12 from 8 a.m. to 8 p.m. simply put your unwanted items on your front boulevard, with a free sign attached, and others can pick them up.
Additionally, The Town of Drumheller and Reality Bytes have partnered for a tech drive. Unwanted computers and devices can be dropped at Drumheller Town Hall, The Municipal Library, or Reality Bytes until September 30. These items can also be dropped at the annual Sports, Recreation, and Arts Expo on Wednesday, September 8.
The items will be cleaned, restored, and redistributed to families in need in the valley.