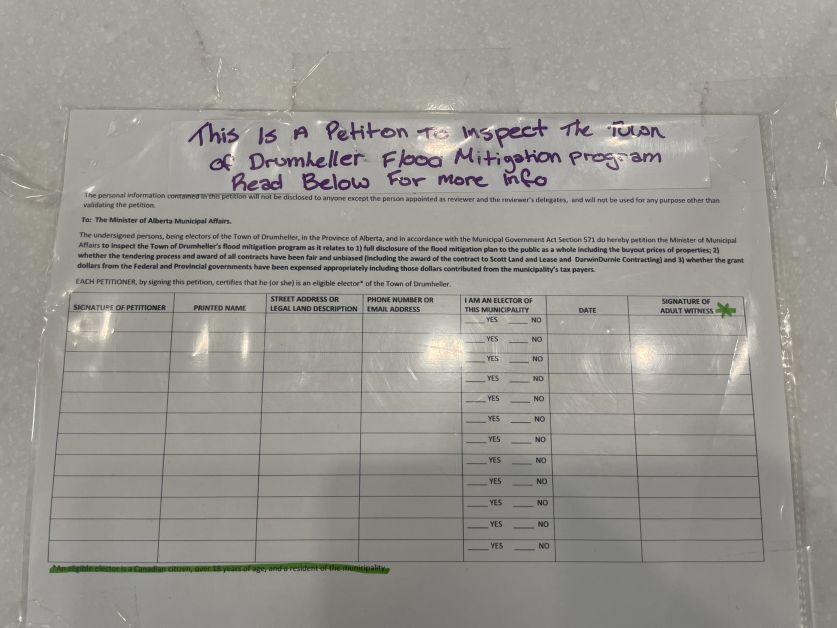 The Minister of Municipal Affairs Ric McIver appointed an official to determine the sufficiency of a petition by Drumheller residents.
The Mail reported in May of this year residents began a petition for an inspection by Municipal Affairs as it related to "1) full disclosure of the flood mitigation plan to the public as a whole including the buyout prices of property, 2) whether the tendering process and award of all contracts have been fair and unbiased (including the contract to Scott Land and Lease and Darwin Durnie Contracting) and 3) whether the grant dollars from the Federal and Provincial governments have been expensed appropriately including those dollars contributed from the municipality's taxpayers."
On June 29, the town received a letter from Assistant Deputy Minister of Municipal Affairs, Gary Sandberg, informing the town the Minister had received the petition on June 15. A Ministerial Order designated Katie Neufeld to carry out the duties of a Chief Administrative Officer with respect to the petitions.
"The Municipal Government Acts says the CAO is responsible to determine the validity of the petition. Because this was sent to Municipal Affairs about a municipality, they have to assign a CAO," explains Town of Drumheller CAO Darryl Drohomerski.
He said Neufeld has received from the Town of Drumheller a listing of all of the property owners and utility customers in the Town of Drumheller to determine residency of those who signed the petition.
If the petition is deemed sufficient, and they determine an inspection is necessary, they will issue a directive to the municipality and they could appoint an officer to undertake the inspection. The municipality would be responsible for the expense.
The Town of Drumheller sent a letter to The Minister of Municipal Affairs inviting the ministry to review its program. As of press time, the town has not received a response.