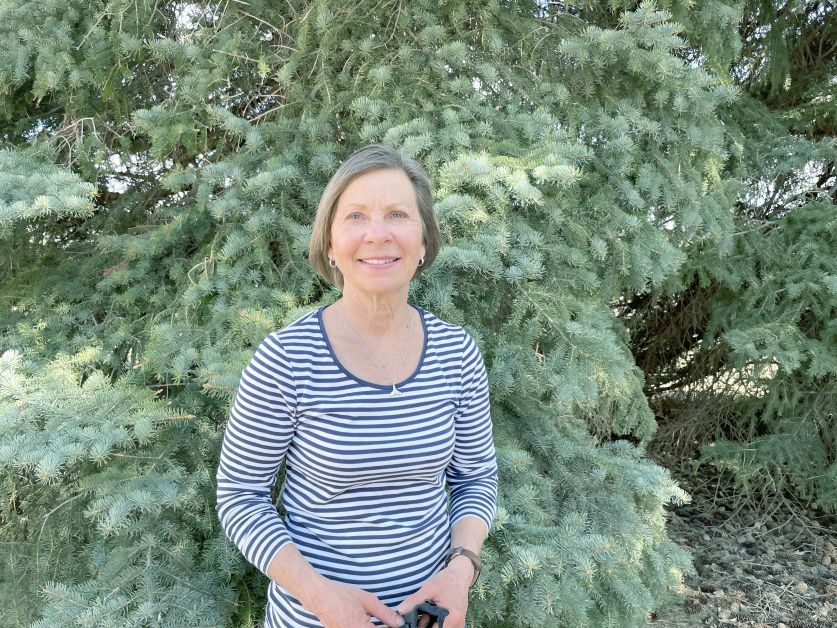 One of the most generous things a person can do is give another person the chance at life. The Mail brought readers the story of a young man who anonymously donated his kidney in the December 30, 2020 edition.
Since that time another anonymous donor from Drumheller came forward to tell her story, and their stories are strikingly similar.
Debbie Catonio, 62, said her story was also inspired by the story of James Vogel, a man who advertised locally for a kidney and who was able to receive a kidney over a year ago.
"I saw the billboard on top of the hill and thought about it," said Catonio. "It was just a thought because I felt I was too old to do anything like this. Later I saw a vehicle with the same advertising on it asking for a donation, and I just kept on seeing it."
For a long time Catonio contemplated donating but kept concluding she was not at the optimal age to donate.
"I have a very strong faith, and I believed God kept putting it on my heart. So I thought I should look it up to see how old you had to be and the website said 18 years old or over, so I thought I can't use that as an excuse anymore," she chuckled.
In July of 2019, she reached out to see if James Vogel had received a kidney yet. She was told no. She asked, "What's my next step?"
She contacted the donor clinic in Calgary. The donor clinic said James had a lot of interest, so would she want to be an anonymous donor? Initially, she was not interested in doing an anonymous donation. After some soul searching it came to her she didn't know James either, so why not, and began to go through the rigors of making an anonymous donation. This included first talking to her family and then going through the extensive medical and emotional evaluation.
She completed the evaluation and was to learn if she would be able to be a donor in March of last year, but because of COVID the appointment was cancelled, and her file was closed.
In June, she received a phone call from the donor clinic to see if she was still interested in being a donor. She of course said yes, and completed the final testing.
"It took a long time to get to this point, but once everything was completed, it went quickly from there to the actual donation." On November 18 of last year, she was in Calgary for the surgery, and the recipient accepted the kidney very well.
She wanted to share her story because she wants to raise awareness that at 62 you are not too old to donate. Since she had retired a couple of years before, it was an optimal time for her to donate. She didn't have to worry about a young family at home or a career, and she had strong support from her family. She feels very blessed to be healthy and to be able to have blessed someone in this way.
Amazingly Catonio has not stopped reaching out to help people. Last week she told the Mail she has signed up for the Kidney March, a 100 kilometre trek she is undertaking over three days.
"Ever since I donated, I knew I wanted to do something more to create awareness for kidney disease and donation," she said.
The march is on the September 12 weekend. Because of COVID, participants are participating remotely and have the option of spreading it out. She is planning to do the entire distance in three days locally.
Medical director for the Southern Alberta Transplant Program, Dr. Mauricio Monroy tells the Mail anonymous donations are a crucial part of the program, which last year they completed 97 transplants.
"There is a huge gap between demand and supply," he said. "In the last couple of years since we have been accepting anonymous donations, the numbers have been going up."
He explains initially they would only do donations from family members. To meet the demands, they began to allow non-related transplants, those who directly knew the patient, such as friends or coworkers. More recently anonymous donations came into play.
He said with anonymous donations, they began to emphasize the social and psychological aspects of being a donor.
"When you have a friend or know somebody who needs a kidney, the decision is not that difficult. It is more difficult if you don't really have an attachment with the person you are trying to help, so we involve more of the social aspect of the donation," said Dr. Monroy.
He notes, anonymous donations help two patients.
"When you become an anonymous donor or living donor, you are basically helping two people. You are helping the patient you are donating the kidney to, but you are also helping the other person that is on the waiting list who doesn't have to compete with that other patient who received the kidney," said Dr. Monroy.
For Jim Lomond of Carbon, he knows first hand how much need there is for donors. He has been waiting five years for a donation, and it is not his first. In fact, he has had three.
His first transplant was right out of high school in 1985. His father donated a kidney, but it did not take, only functioning for about 36 hours. Three years later he had his second transplant. This one lasted five years. He went from 1993 to 2000 on dialysis before receiving a third transplant. This one functioned up until 2016.
He has been dealing with this his entire adult life. Despite this, he is living a full life, graduated from college, married, moved from Newfoundland to Alberta (receiving dialysis along the way), and has two teen daughters.
"I've never let anything stop me," he said.
He does dialysis at home five times a week while he waits.
Lomond tells the Mail a kidney became available on March 15 of last year. He made his way to a Calgary hospital to be prepped for surgery, but it was cancelled because of COVID. Because it was not a living donation, he missed his most recent opportunity.
He is still actively searching, and there was even a billboard put up asking people to look at donations. His search is more difficult because he has a rare blood type. His plight has made the news across Canada.
To learn more about donating to Lomond, call 403-334-9358.
More information on the Southern Alberta Transplant Program is available on the AHS website.
Catonio has started her fundraising for the Kidney March and will be following a 12-week training regime on the website to prepare for her trek. She has a donation page at Kidneymarch.ca and supporters can go there to make a donation.
"I think a 100 kilometre walk will be harder than donating a kidney," she said.